45 Rustic Wooden Christmas Decorations Ideas
Decorating for Christmas brings warmth and magic into the home, and spreads joy to those visiting or passing by. Christmas isn't just a day, it's a whole season – and it's fast approaching.
To help you prepare for the festivities, we have scoured the internet to find the most magical ways to decorate your home, from handmade tree trimmings to DIY project pieces.
Outdoor Decorations
Adding Christmas decorations to the front of your home, or garden, will bring smiles to passers by and visitors alike. Wooden Christmas decorations are perfect for outdoor placement, as they'll last well throughout the cold and snowy conditions.
Wooden Wreath
These are perfect for the eco conscious, as natural wreaths have to be replaced each year. This wooden wreath is a beautiful alternative Christmas decoration, with a rustic feel. This cute wooden wreath sign can be hung on the front door to let Santa know that your family believes. It's also fully customisable.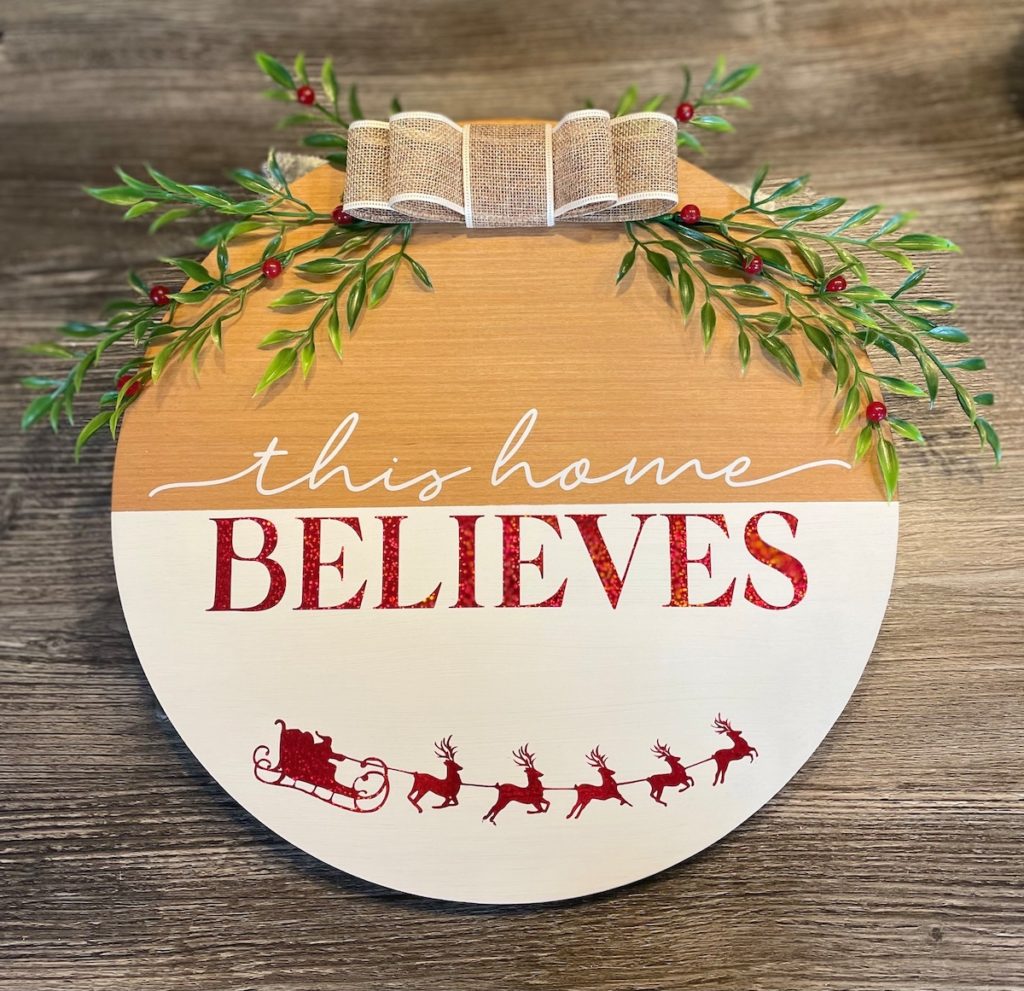 Traditional Twig Wreath
This traditional scandi style wreath is made from faux pine foliage, pine cones and white washed wood to give a natural, authentic feel to the wreath. You'll be able to reuse this wreath every year, rather than purchase a brand new natural one each winter.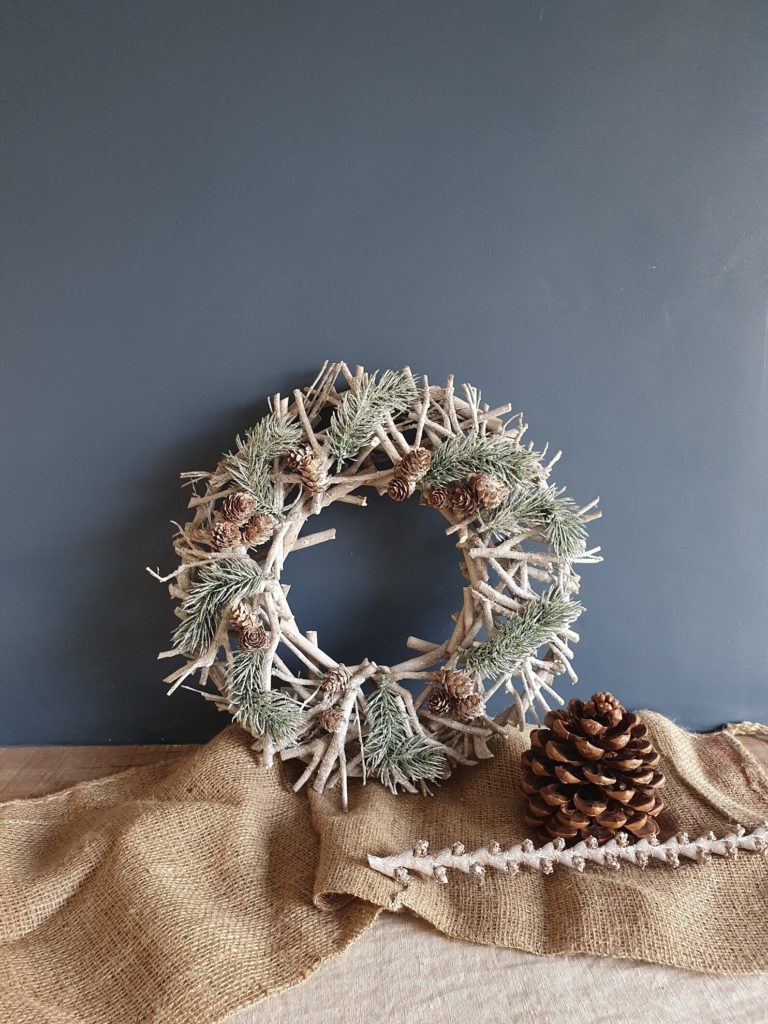 Large Wooden Reindeer 
What could be more magical than a group of reindeer grazing on your front garden? There are many variations on the wooden reindeer decorations to be found on the internet, but we love these cute log reindeers with their glittery red noses the most: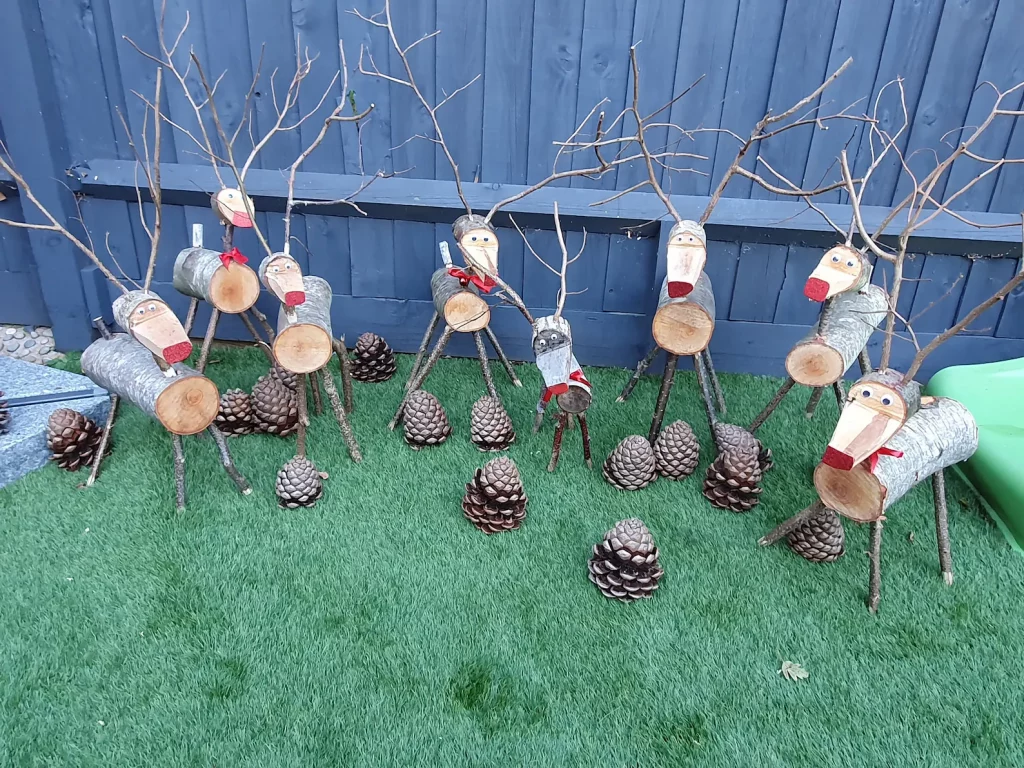 Happy Log Snowman
This happy snowman is the perfect way to greet anyone who visits you this December, handmade with logs and sticks – meaning no two will ever be the same. If you're into DIY this could be a fun project to try and create for yourself at home.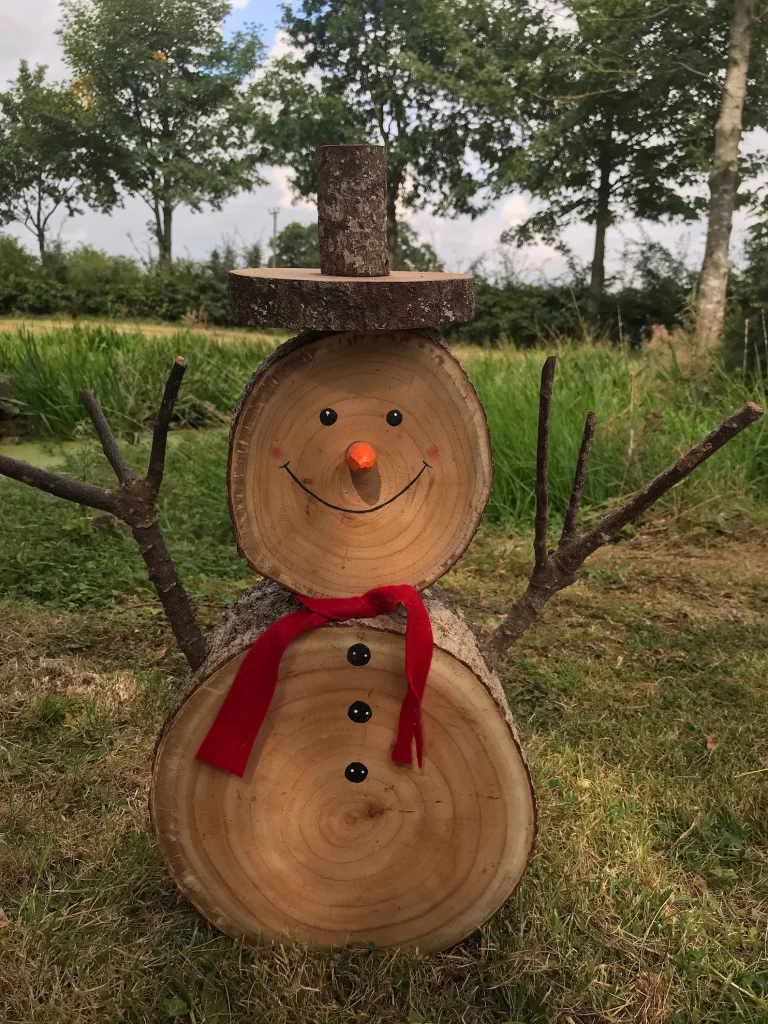 Train Planter
Maybe Santa rides a sleigh, or maybe he drives a train? Whatever you believe, there's no denying that this wooden train planter is a gorgeous addition to any home. Fill with poinsettias and Christmas ornaments in December, and swap for less festive plants for the rest of the year.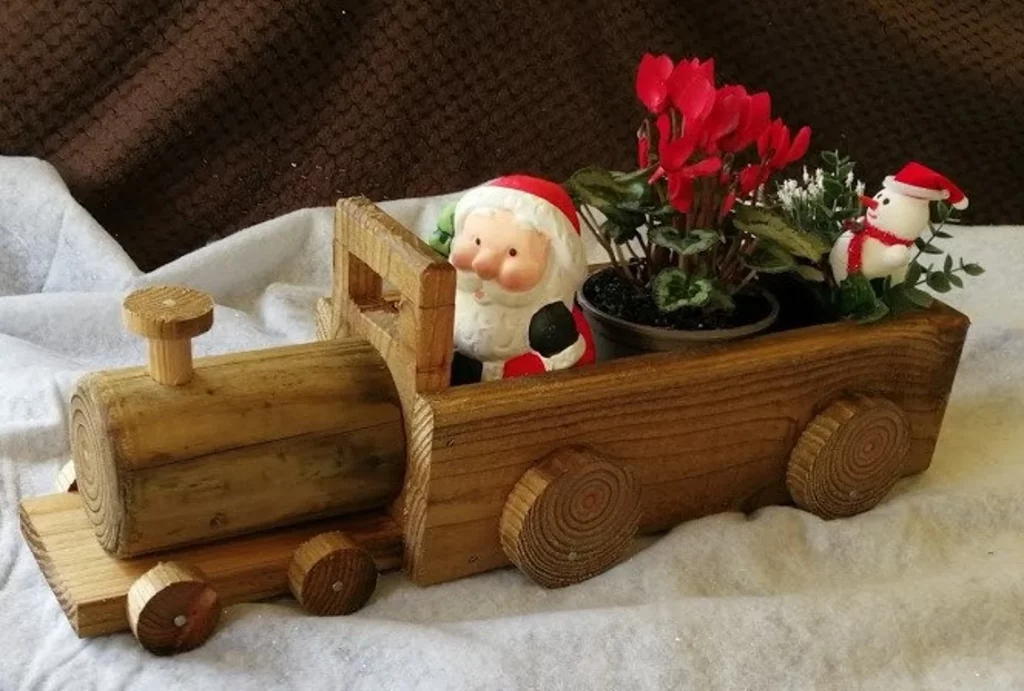 Leaning Porch Sign
Made from weather-resistant plywood, this Merry Christmas sign can be customised in your chosen pattern colour and is available in a range of tartans and plaids. Designed to lean against your porch, or near the front of your house.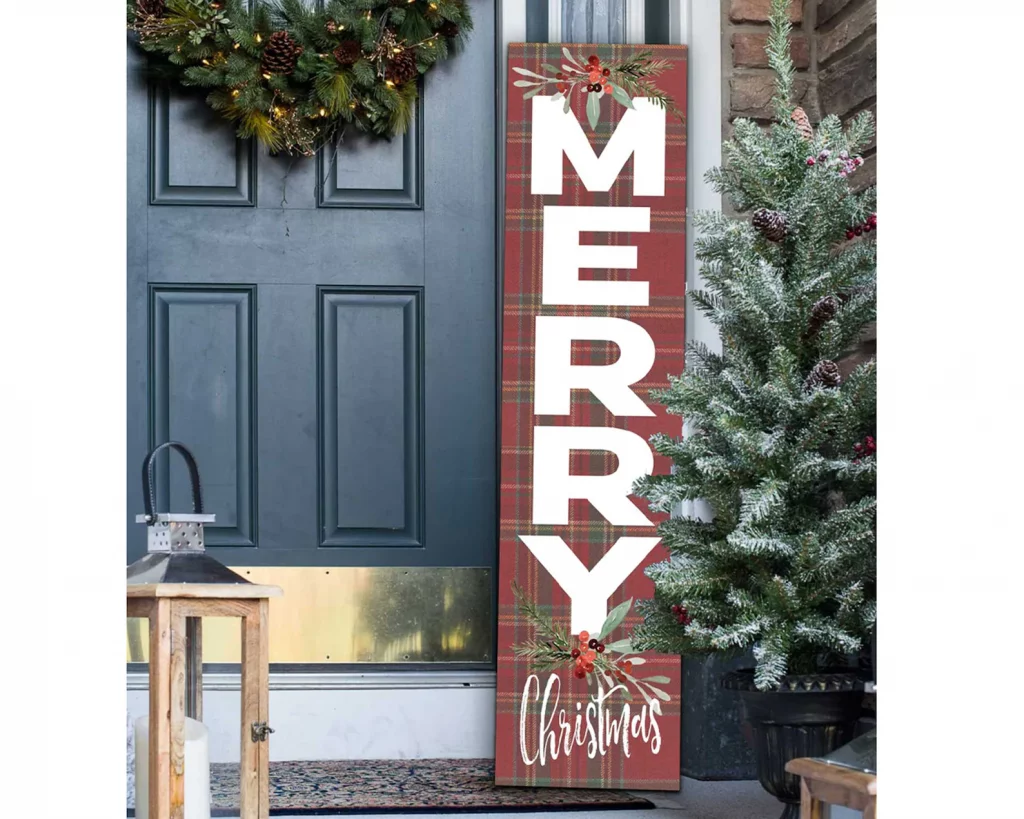 Believe Flag
Let everyone know that you and your family believe with this plywood Christmas flag. It can be pushed into the soil of a front garden, used as a tree topper or placed in stockings.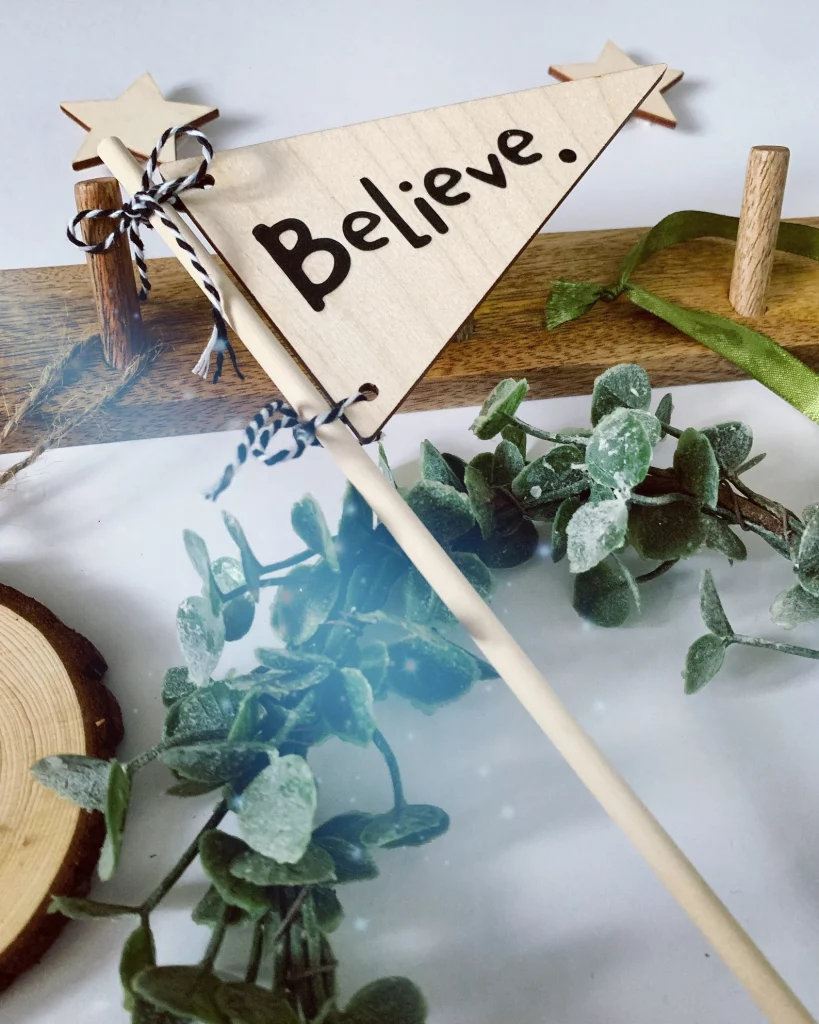 Indoor Decorations
It's what's inside that truly counts when it comes to Christmas decorations, these are the magic touches that you'll be seeing the most. With these indoor Christmas decorations we are considering everything except your Christmas tree, all of the special extra touches you can scatter throughout each room. Filling your home with Christmas decorations is filling your home with magic.
Rustic Twig Christmas Tree
This beautiful decoration is perfect for those without the space for a freestanding tree of any size, or who are looking to add a rustic feel to their festive decor. This rustic twig christmas tree is something the DIY savvy could make at home themselves, but there are plenty of examples of these for purchase online. You could even add your own wooden tree trimmings to the twig branches.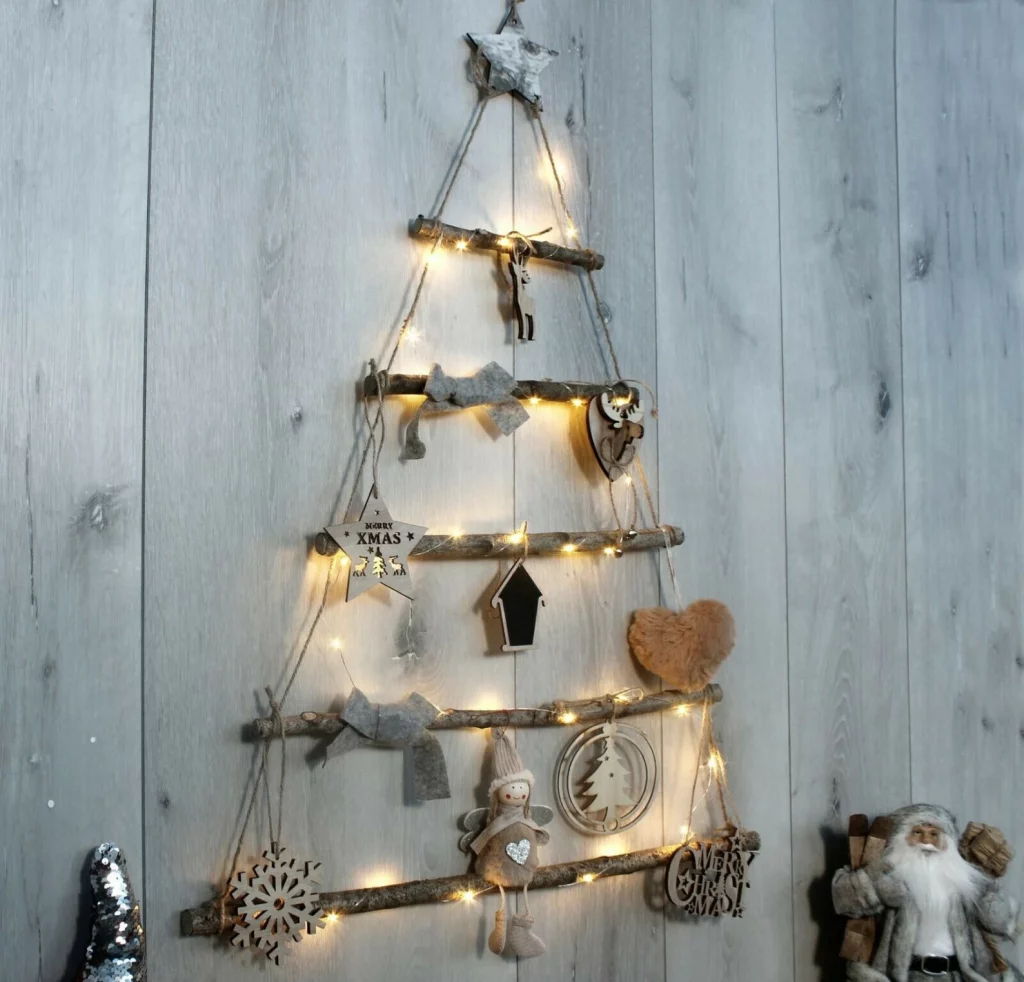 Personalised Family Sign   
Welcome guests to your home with a personalised sign. This hanging decoration is made from high quality MDF, and can be customised to say your family name in the colours of your choosing. A personalised hanging decoration is a great alternative for a wreath, or can make a unique gift for the family hosting the festivities on Christmas day.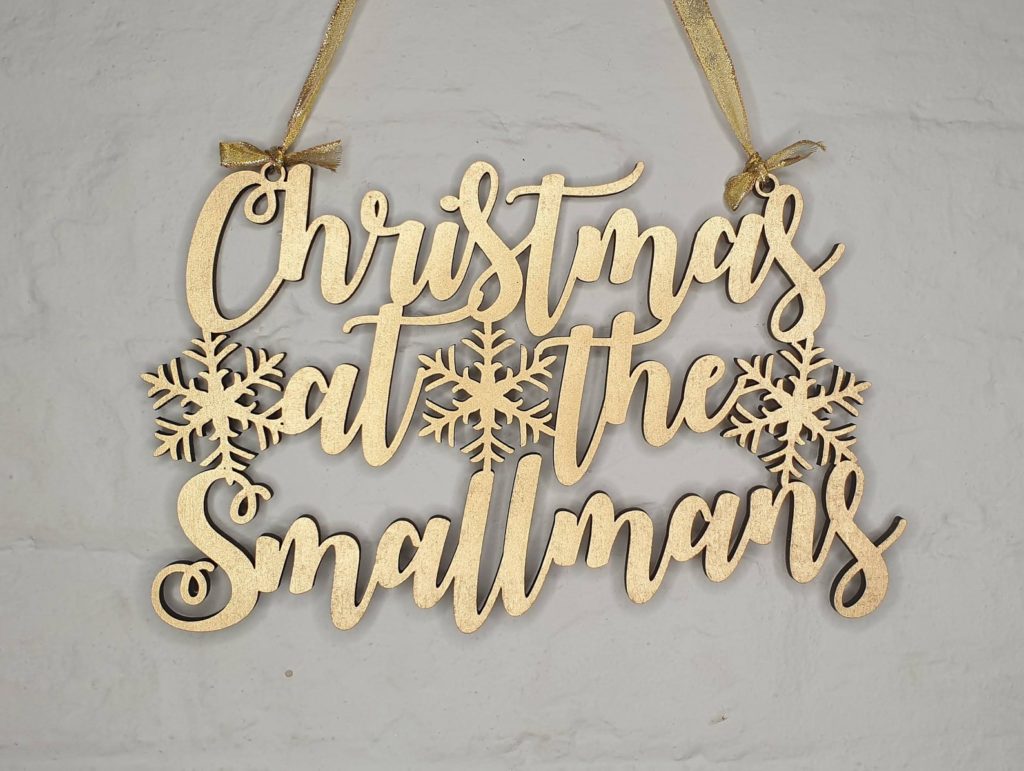 Handcrafted Wooden Christmas Trees
These handcrafted wooden trees are made with reclaimed, rustic kiln dried timbers and feature battery operated lights. These would look great on a side table, shelf, or mantel piece.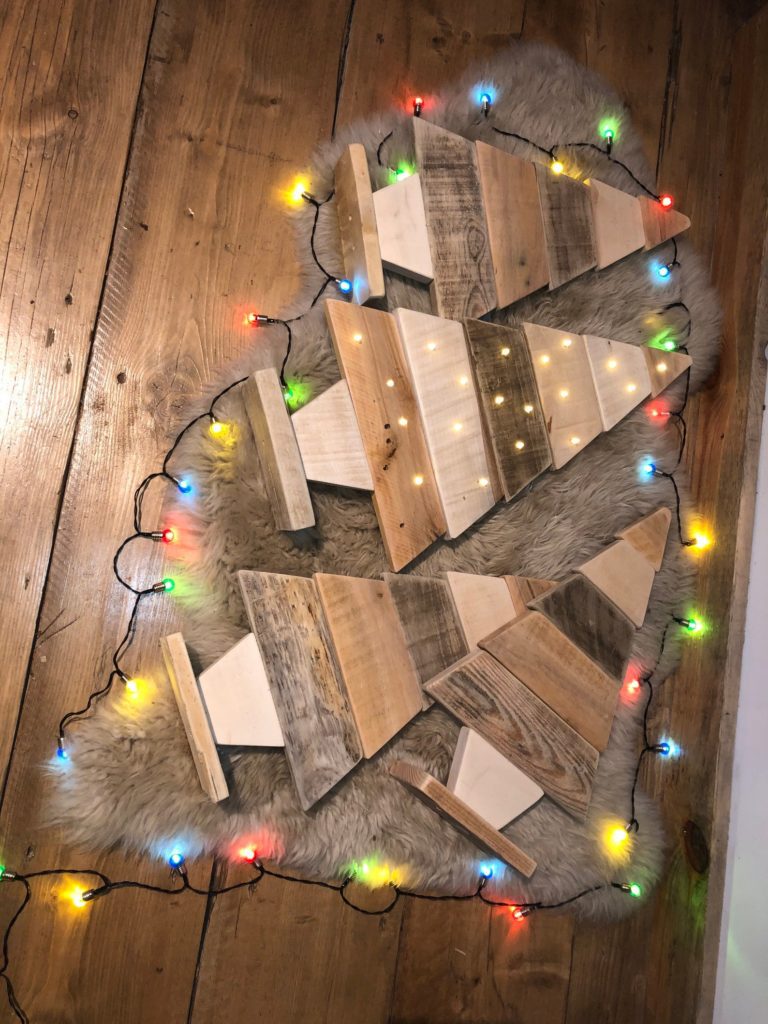 Reindeer Napkin Rings
Decorating indoors includes decorating your table ready for Christmas lunch. These reindeer wood napkin rings are a simple way to add festive cheer to the table, without overpowering colours or glitter. Made with veneered MDF in three colour options: oak (light wood), sapele (slightly pink hue) and walnut (darkest shade).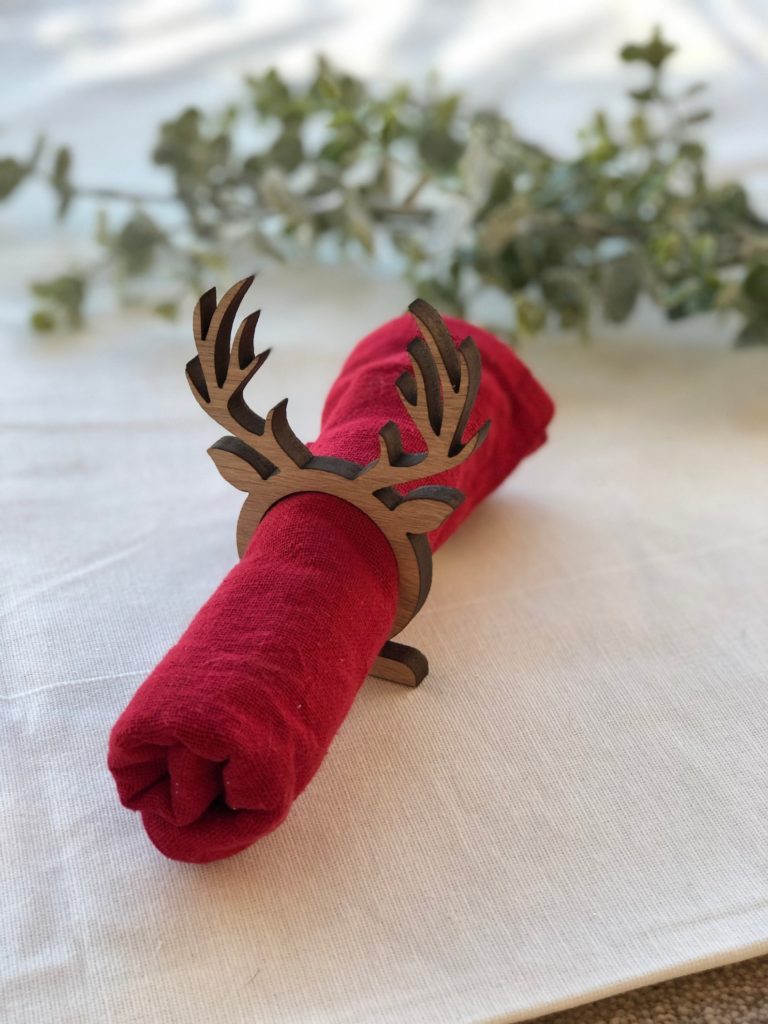 Wooden Star Confetti
Plastic single use confetti is terrible for the environment, whereas these wooden star confetti pieces can be reused for any occasion and add a rustic, charming effect to the festive dinner table.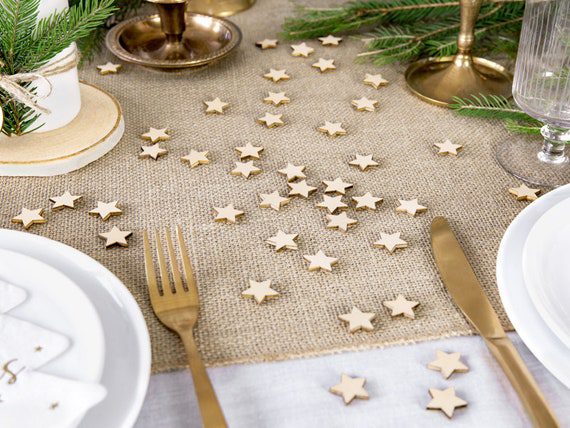 Tree Place Card Holder 
For large Christmas gatherings table plans can help the host to organise the event, and add a touch of elegance to the festivities. These wooden tree place card holders even come with blank cards for names to be written on. The natural wood colour will compliment any colour scheme beautifully.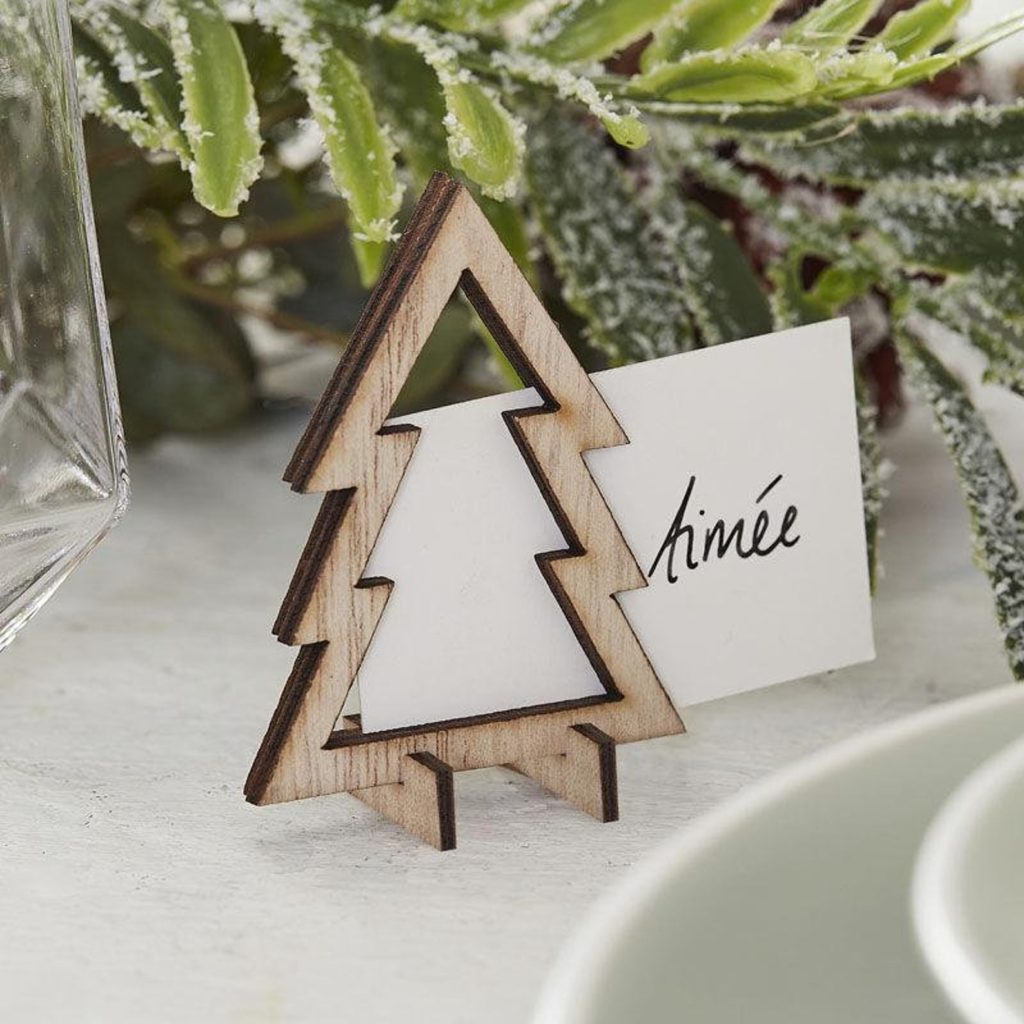 Wood Slice Discs
Extend the rustic look to your entire home with these wood slice discs. Use them as coasters for your Christmas dinner, or on your coffee table.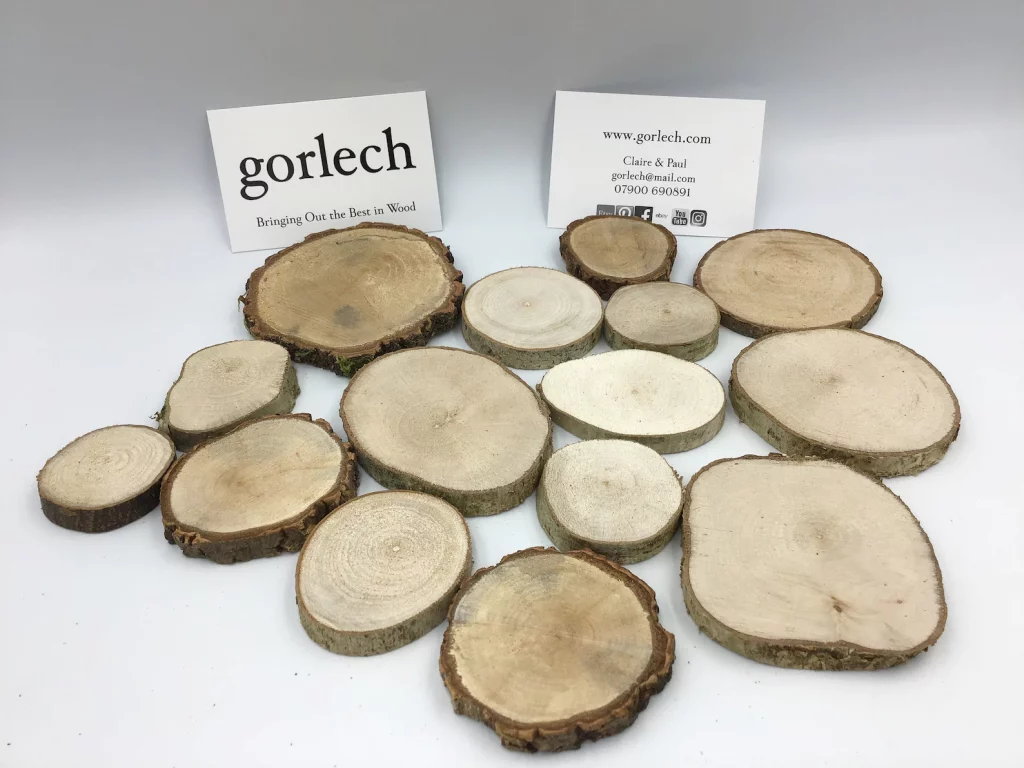 Wood Slice Centrepiece
Wooden decorations add a touch of tradition, and look rustic and comforting. This wood slice centrepiece is a cutting from a real wood log, meaning each purchase will be unique. Use the wood slice for displaying decorations throughout your home on top of, or for displaying your Christmas pudding on the dinner table.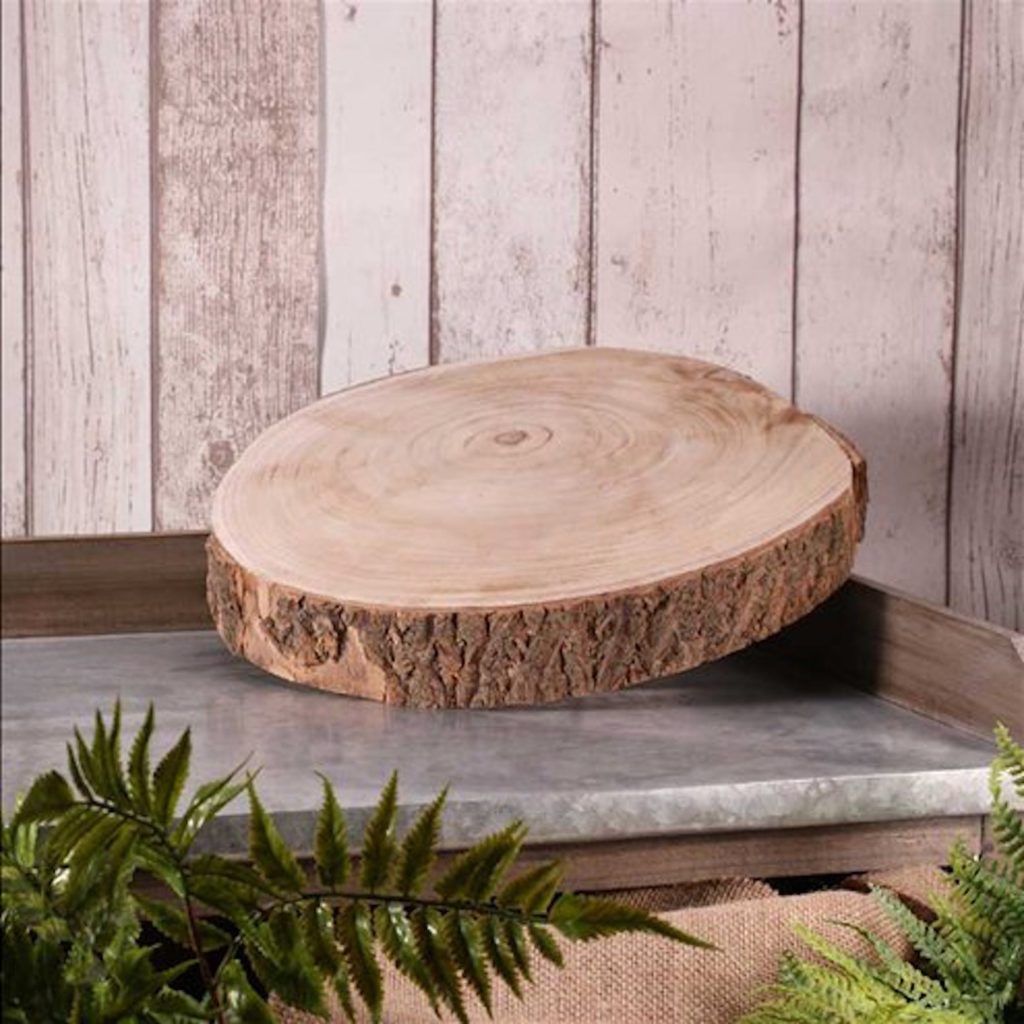 Children's Play Set 
Great way to decorate a child's bedroom, or playroom, and a great tool to use to teach young children about Christmas and help them to get excited about Santa's arrival. The hand painted wooden play-set includes Santa, Mrs Claus and two fir trees.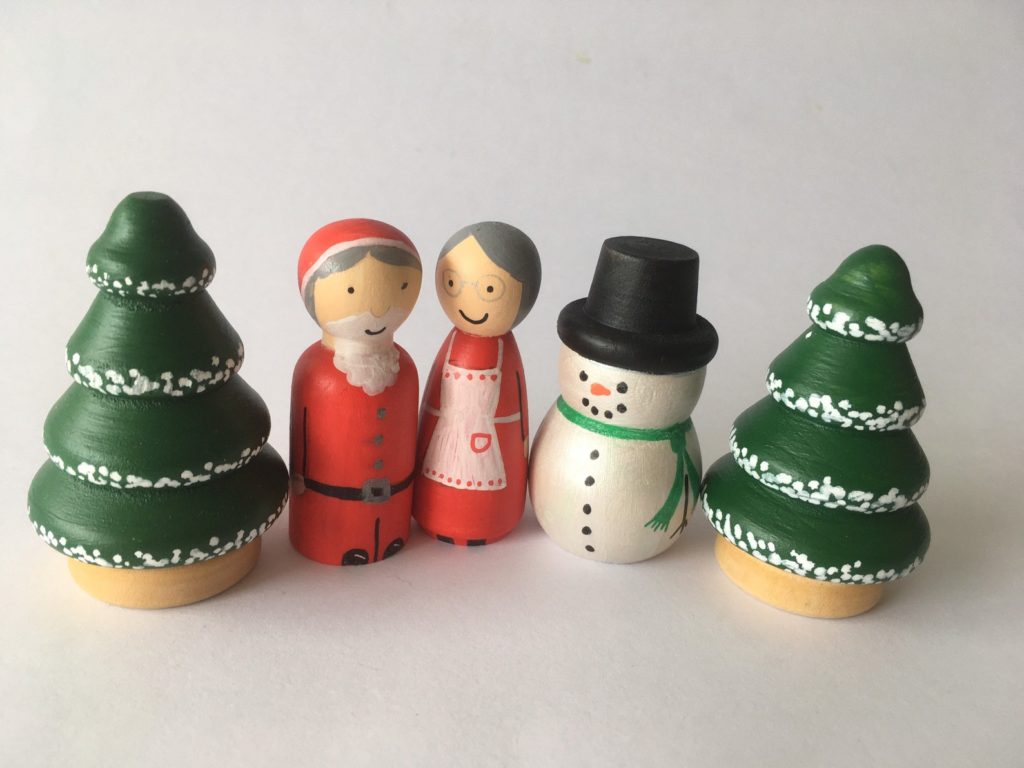 Christmas Eve Plate
Wooden Christmas Eve plate can be used as decoration up until you fill it with treats for Santa and his delivery crew. This wooden board is made from bamboo and can be customised with your children's names.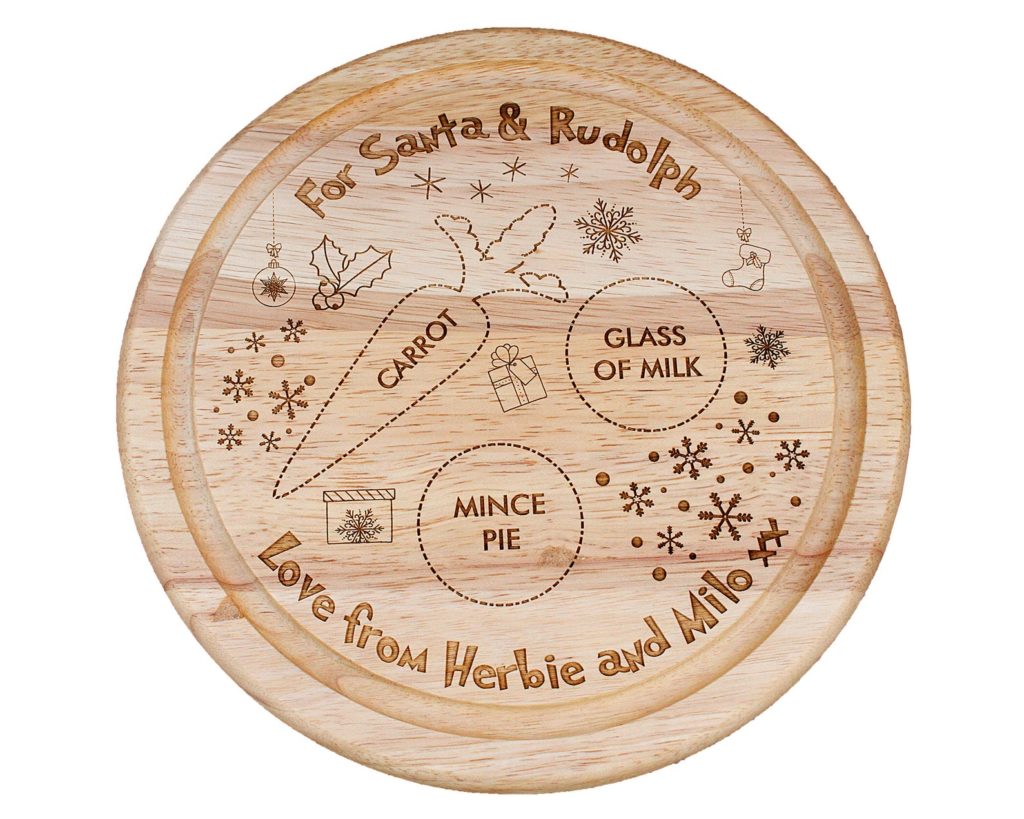 Tree Shaped Snack Plate
Perfect for Christmas parties, or simply for sharing some snacks during a movie with family at home. This Tree Shaped Snack Plate is handmade from sustainable birch wood, and can be customised with wording of your choice.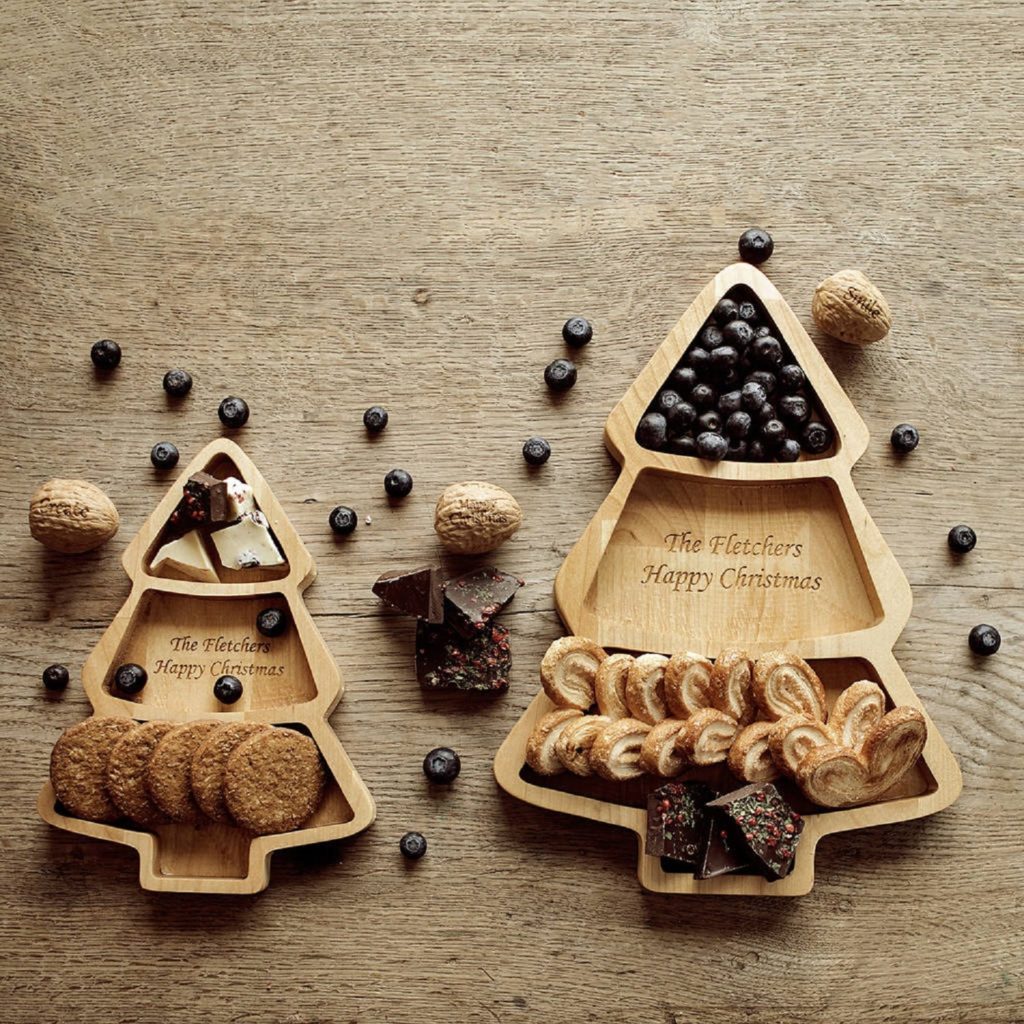 Tree Decorations
It's not about whether you opt for a reusable synthetic Christmas tree, or select a new natural one each year, it's about what you decorate it with. Trimming the tree with wooden decorations will give it a traditional, rustic look and feel. Wooden tree decorations will also last a long time too, unlike glass or plastic items which are fragile or cheap and break easily.
Pet Portrait Wood Slice
These bespoke pet portrait wood slices are custom made using an image of your pet. The portrait is hand painted onto a natural wood slice and adorned with string, ready to be hung on your tree. Pets are a part of the family, and these tree hanging decorations are a great way to show that. A perfect choice for a gift for a loved one, or a secret santa.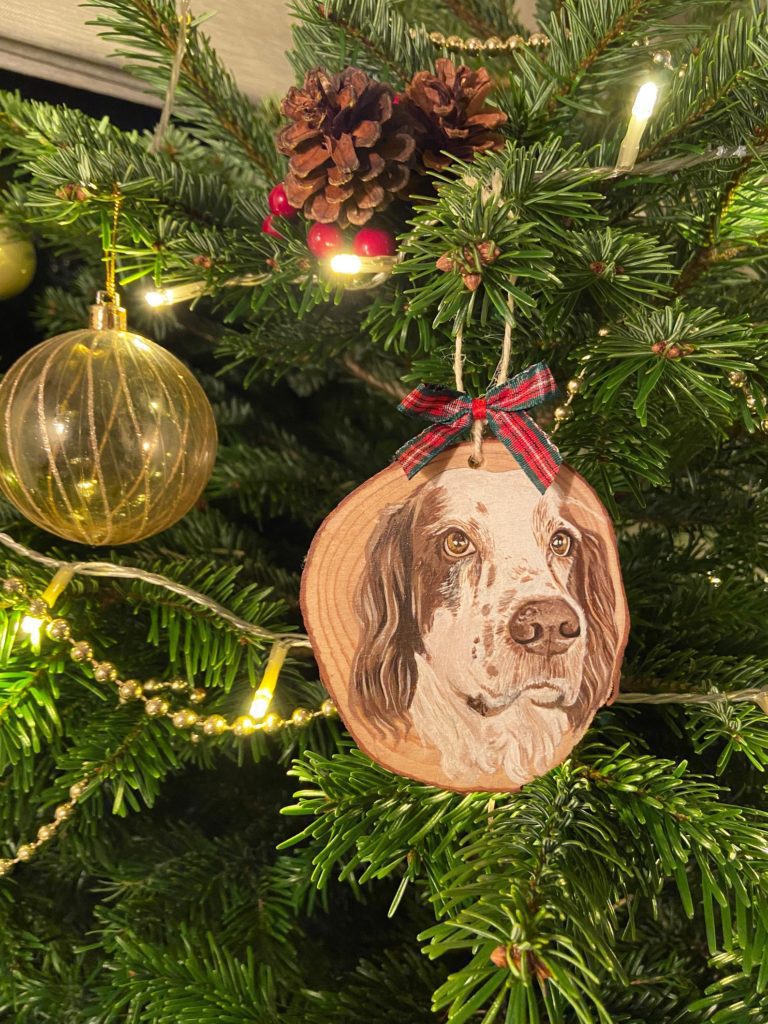 Gingerbread Couple
Engraved tree ornament featuring a customisable gingerbread couple. A sweet gift for the one you love, this Christmas tree decoration is beautifully crafted from oak veneer and hand painted.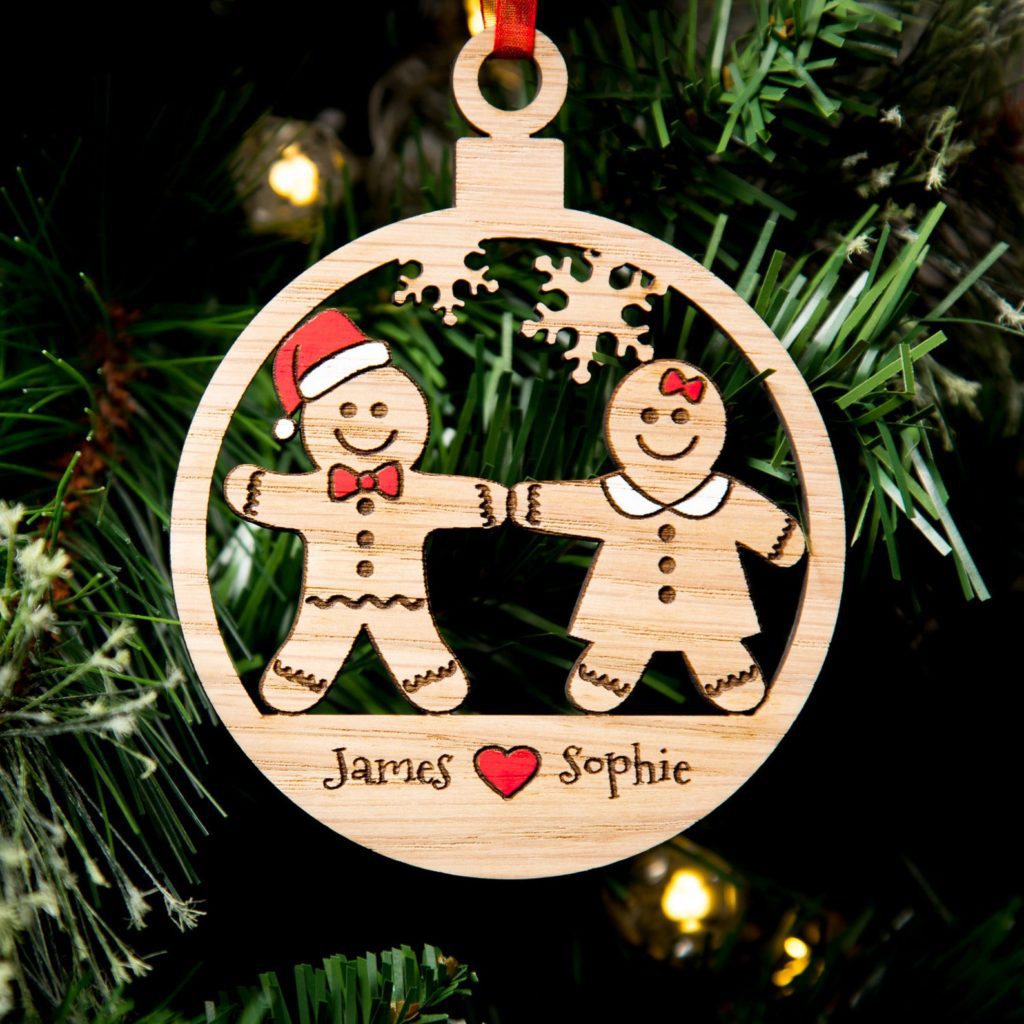 2021, Year of the Vaccine 
Many families love to collect new tree decorations each Christmas, to reflect memories made that year. For most of us, one thing still stands out in particular – COVID-19. This natural wood slice ornament features the wording, "2021 The year of the vaccine" and has traditional Christmas foliage printed around it. This would make a fun gift for secret santa recipients at the office.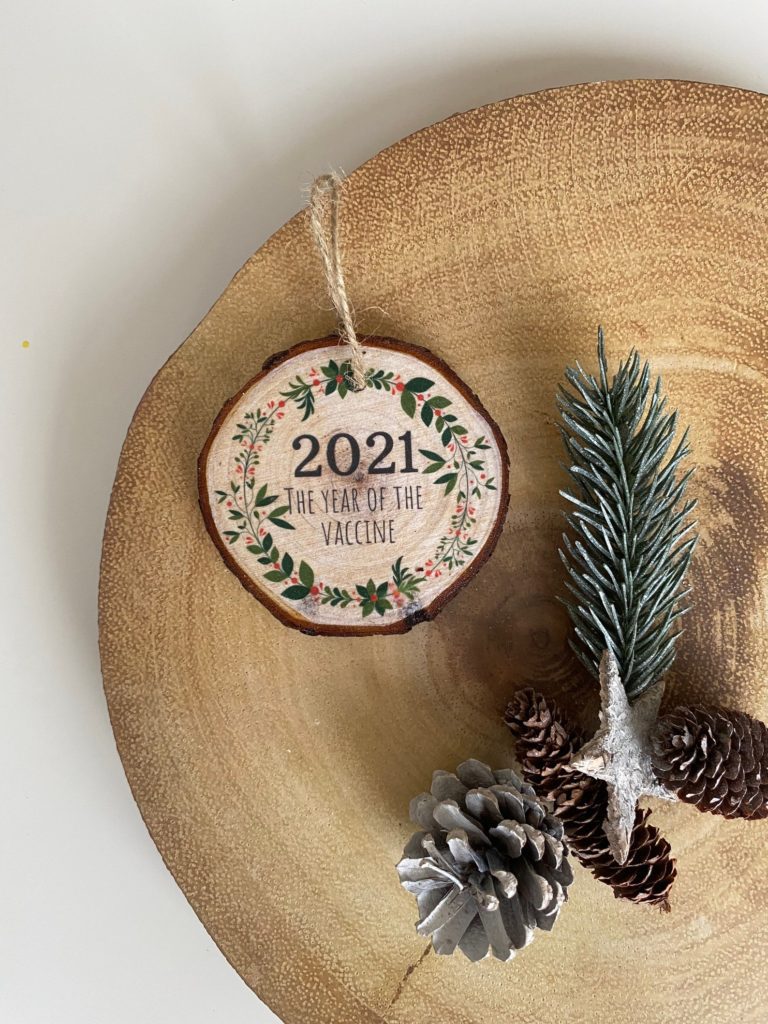 Personalised Wooden Baubles
These handcrafted and hand painted baubles can be customised in any colour of your choosing, with personalised wording to commemorate the special people and memories that you hold dear. Made with real wood slices, so each piece is as unique as the customisation you decide upon.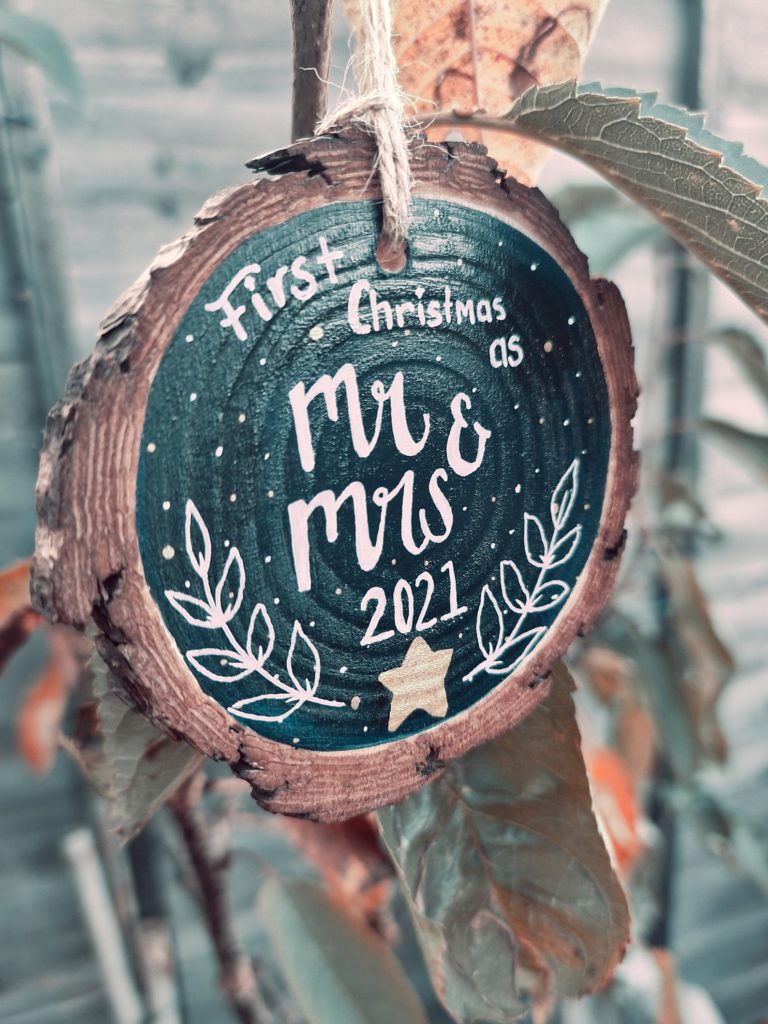 Reclaimed Timber Baubles 
These handmade tree decorations are made from reclaimed timber, and are available in a variety of colours. The wooden baubles are small, measuring at just 6-7cm tall, making them perfect for filling gaps on large trees or adorning small tabletop Christmas trees.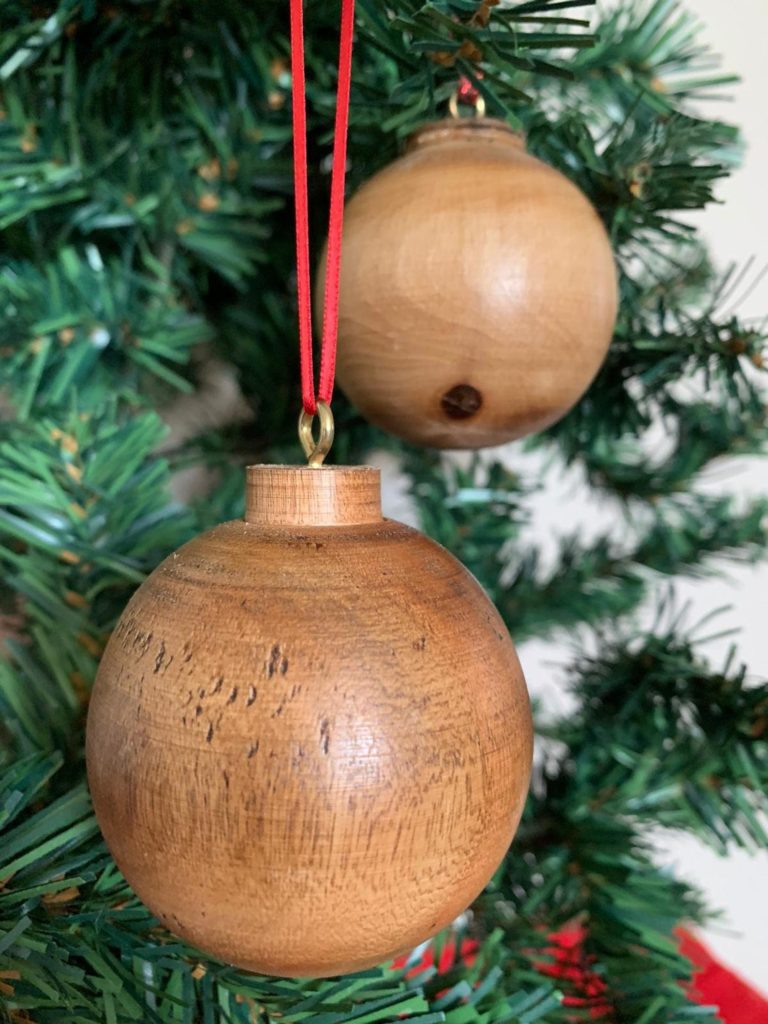 Traditional Nativity Ornaments 
Vintage throwback, these traditional nativity ornaments have adorned many trees in years gone by. If vintage is your thing then these decorations are for you.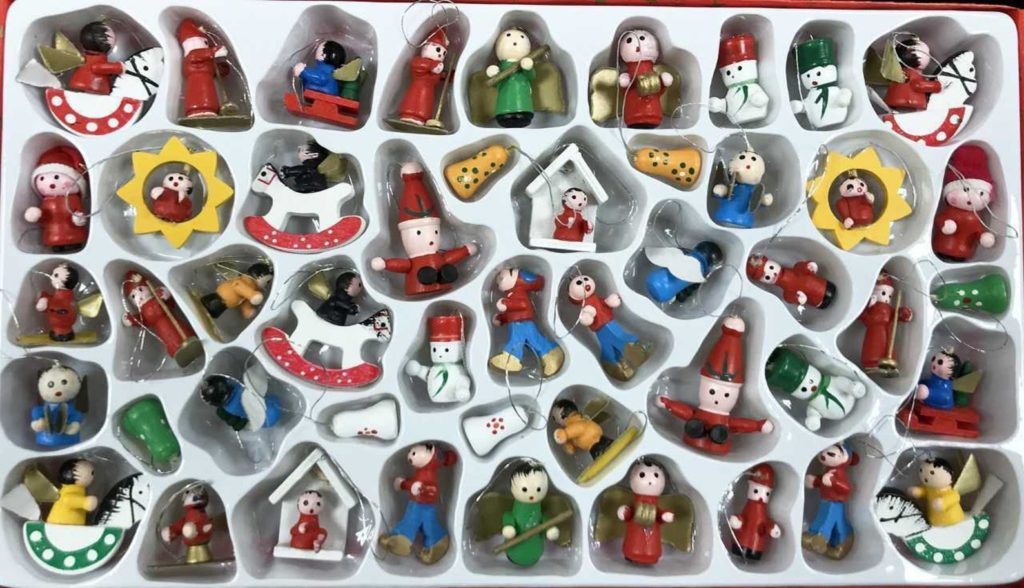 Nutcracker Soldiers 
The Nutcracker is a widely popular symbol of the Christmas season. This pack of 12 Nutcracker Soldiers comes in four colours with strings already attached for ease of use.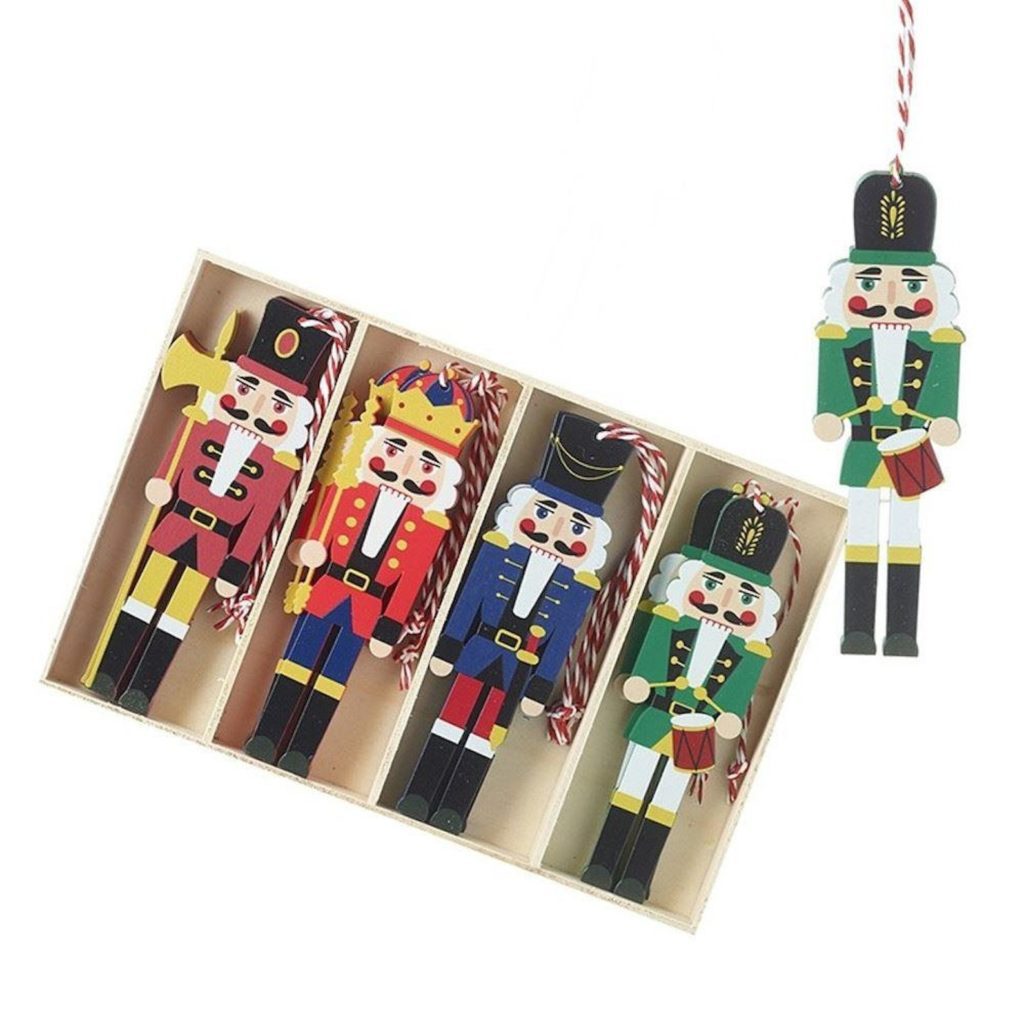 Star Tree Topper 
no tree trimming is complete without the tree topper. This oak star tree topper is a delicate, geometric shape that is laser cut from 4mm thick oak veneer. The tree topper is lightweight, so won't cause the top of your tree to tip or hang, making it ideal for artificial or real Christmas trees.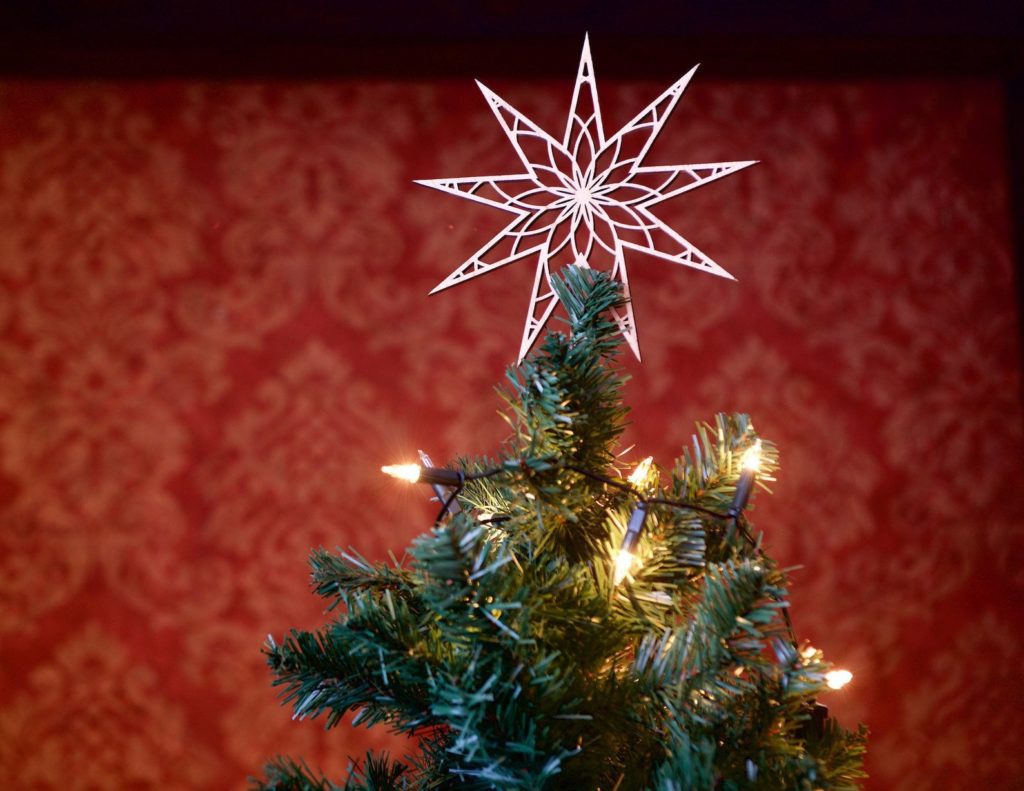 Gift Embellishments 
Wrapping paper, ribbons and bows are very beautiful but they are in no way original. These wooden gift embellishments will have all gifts making a powerful impact, before they've even been opened.
Initial Gift Tags 
Instead of spending hours writing out gift recipient's names by hand, attach these initial gift tags to the ribbon wrapped around the present for a unique and beautiful finish. These could be used to embellish the main gift, and then the gift tag can be recycled as a Christmas tree decoration.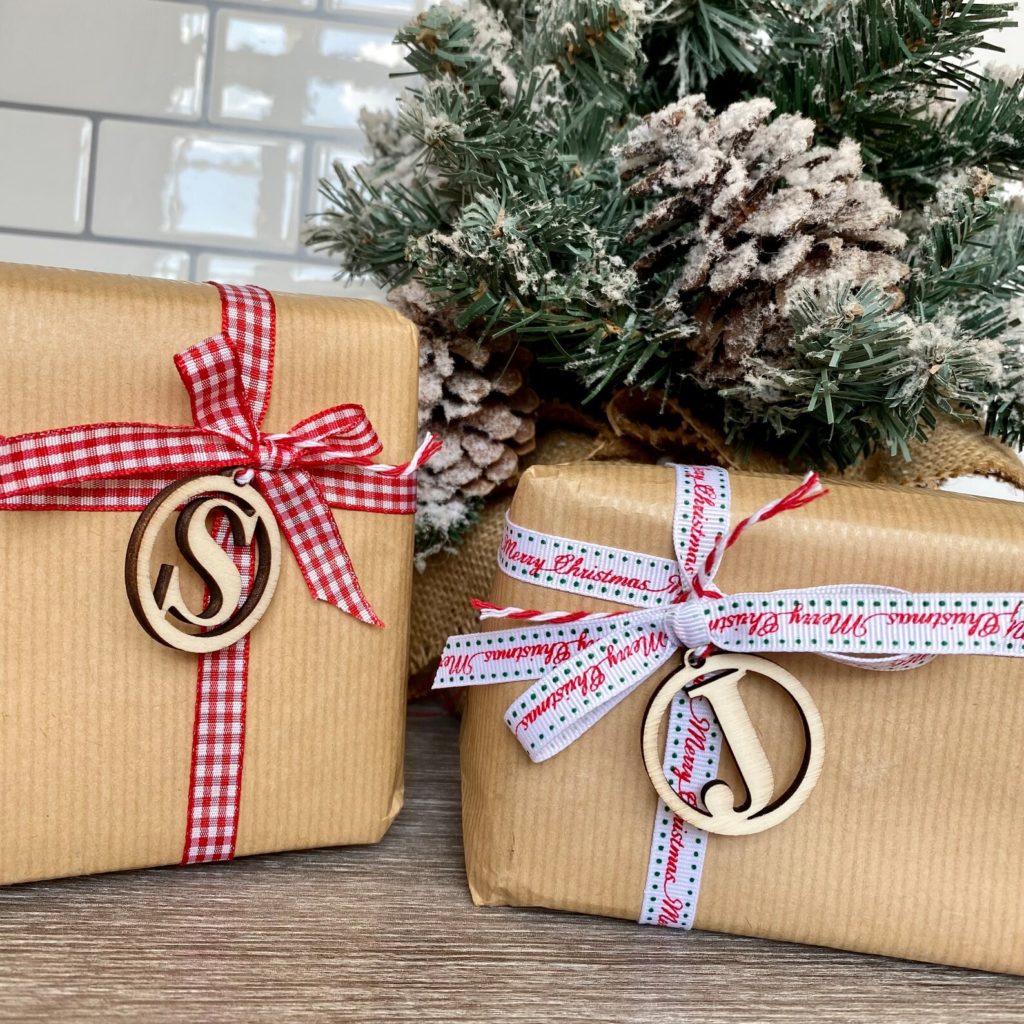 Santa's Workshop Label
Help the children's imaginations run wild with these Santa's Workshop Gift Tags that can be customised with your child's name, and even state which elf packaged their gift!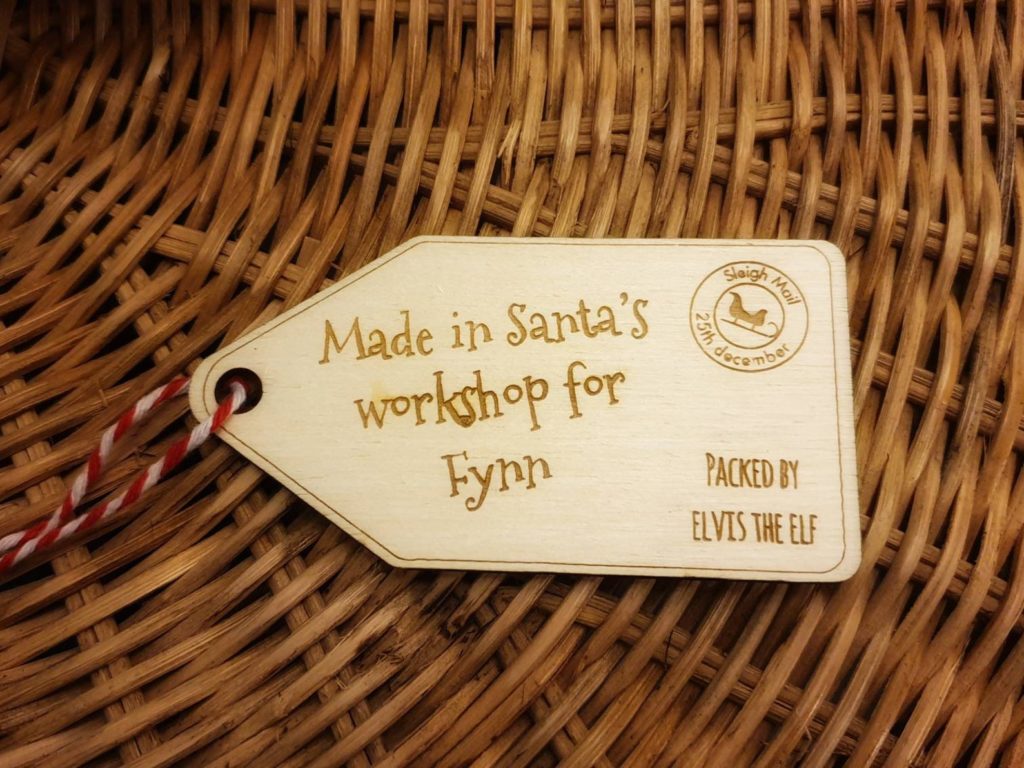 Stocking Name Tags
Personalise each of your family member's stockings with these stocking name tags, handmade with wood and attached to your Christmas stocking with ribbon. These can be personalised to say any name, and can be reused each year, they make a charming addition to plain stockings.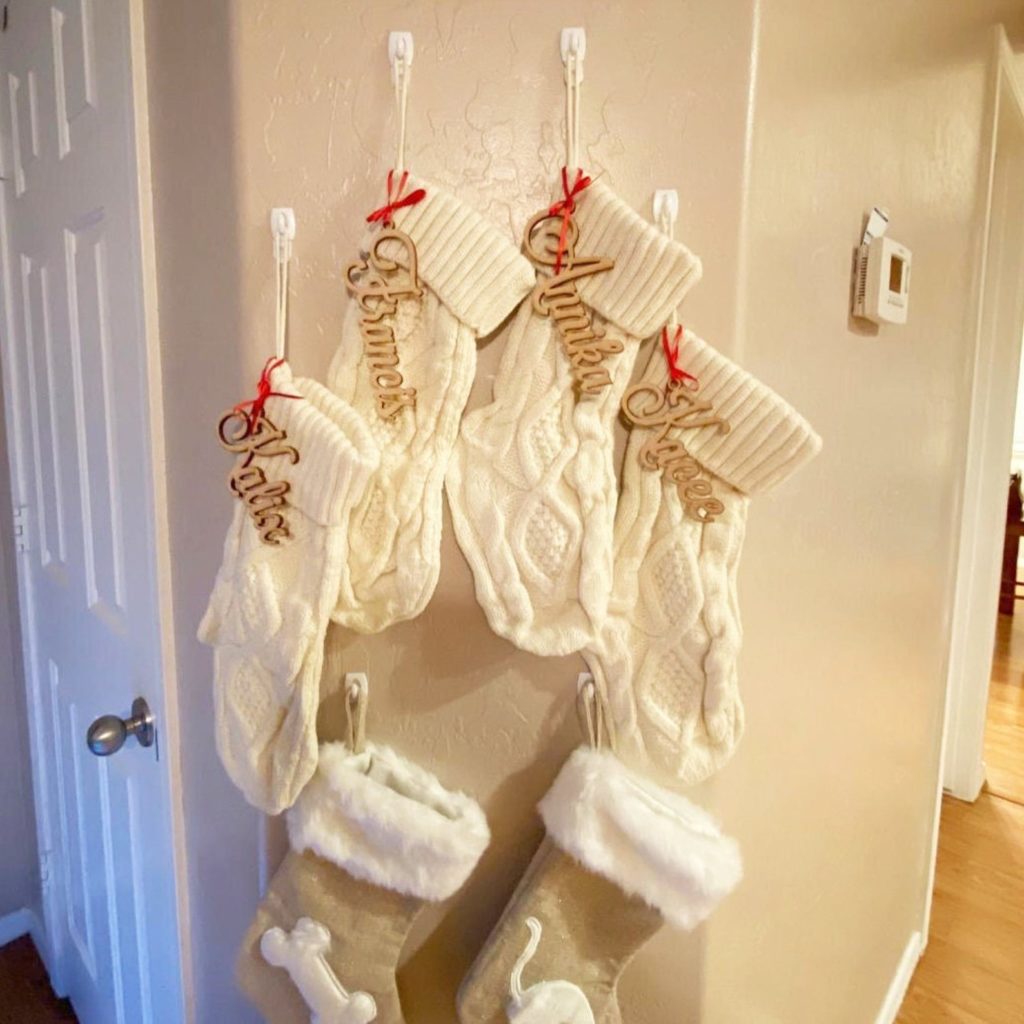 Christmas Eve Box
Wooden Christmas eve box is a fun way to allow your child to open "just one present" before Christmas. The box is a great size to fit a few treats, or just one gift. The festive box features a colourful design and can be customised with the name of your choosing. A Christmas eve box is an investment in starting your own traditions as a family, the box can be reused each year.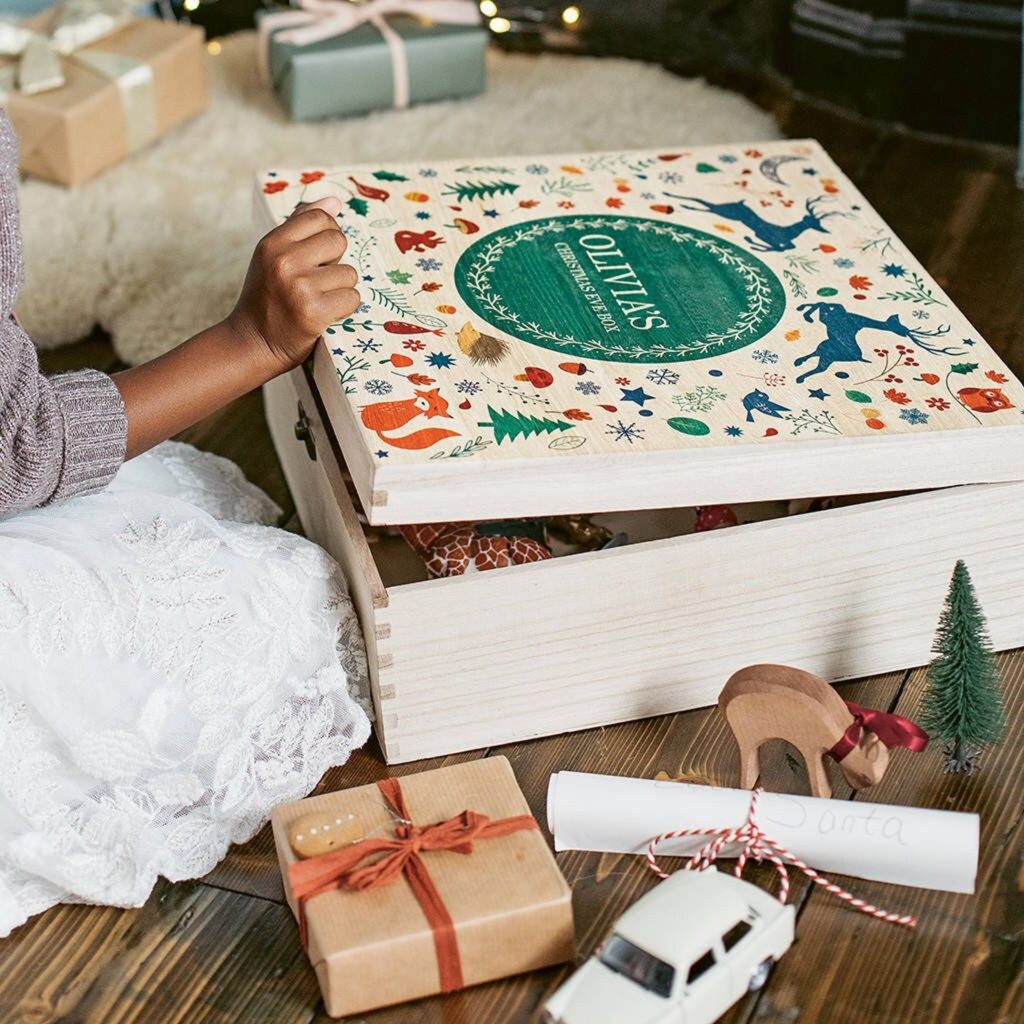 Shelf Toppers
The great thing about having shelves in your home is that the decor you display on them can be rotated throughout the year, to match the changing seasons and reflect the festivities. Rotating the decorations you have on display will remind you to frequently dust your shelves, and helps to keep your shelves feeling new as they take on a new style each season. 
Trio of Trees
Make your own wintery forest with this trio of Christmas trees. These Nordic style wooden decorations are made from 3mm thick birch wood and slot together to create a 3 dimensional look. There are two sizes to choose from, and they come in a plain wood-colour – so can be used for DIY decorating projects too.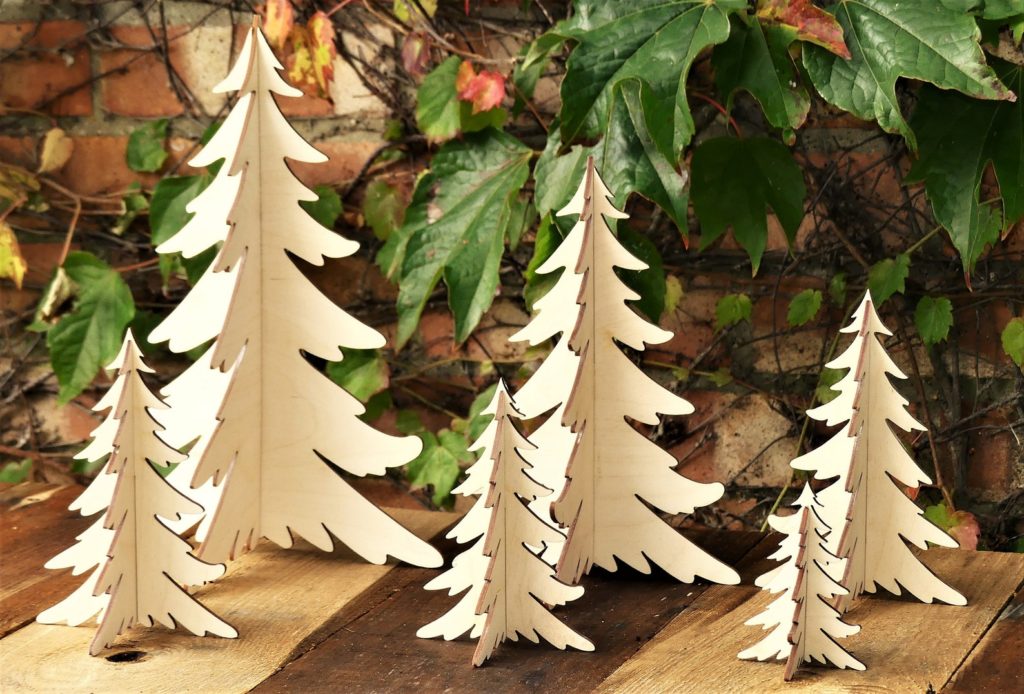 Tall Festive Houses 
Decoration that is festive, but simultaneously doesn't scream Christmas. Shelves will look wonderfully wintery with these tall festive houses situated on top. Use them to create a wintery scene or have them as a stand-alone item for a more chic Christmas celebration.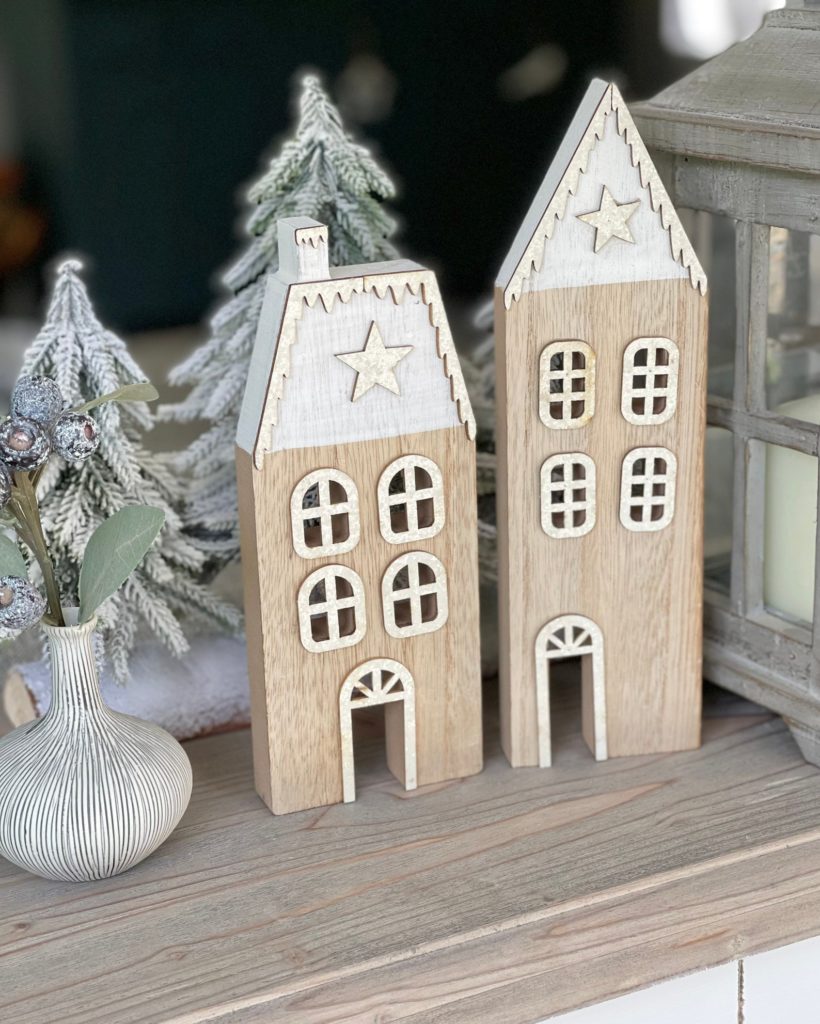 Fir Tree Forest
Made from pine and oak, this adorable fox in the trees decoration is the perfect wintery decoration for your shelves. Again, this arrangement doesn't scream Christmas which means you could display it all year long.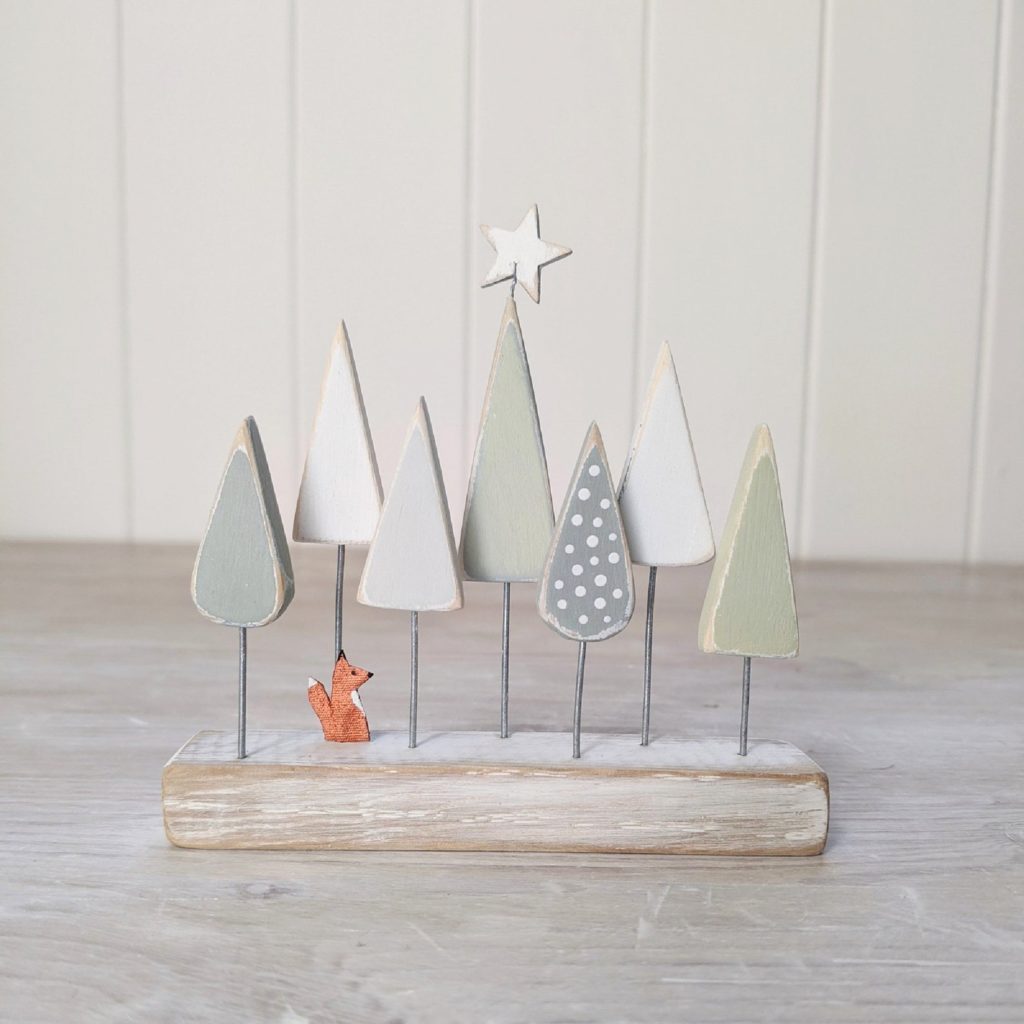 Framed Festive Sign 
swap your favourite quote print for a Christmas message! Either buy a wooden framed Christmas sign, or save money by printing one at home (or in the office) and making it yourself. Festive quotes look stunning on our handcrafted shelves, you can buy a frame of a similar or contrasting wood depending on the look you're going for with your Christmas decor this year. We suggest adding a garland too, for a truly traditional rustic look.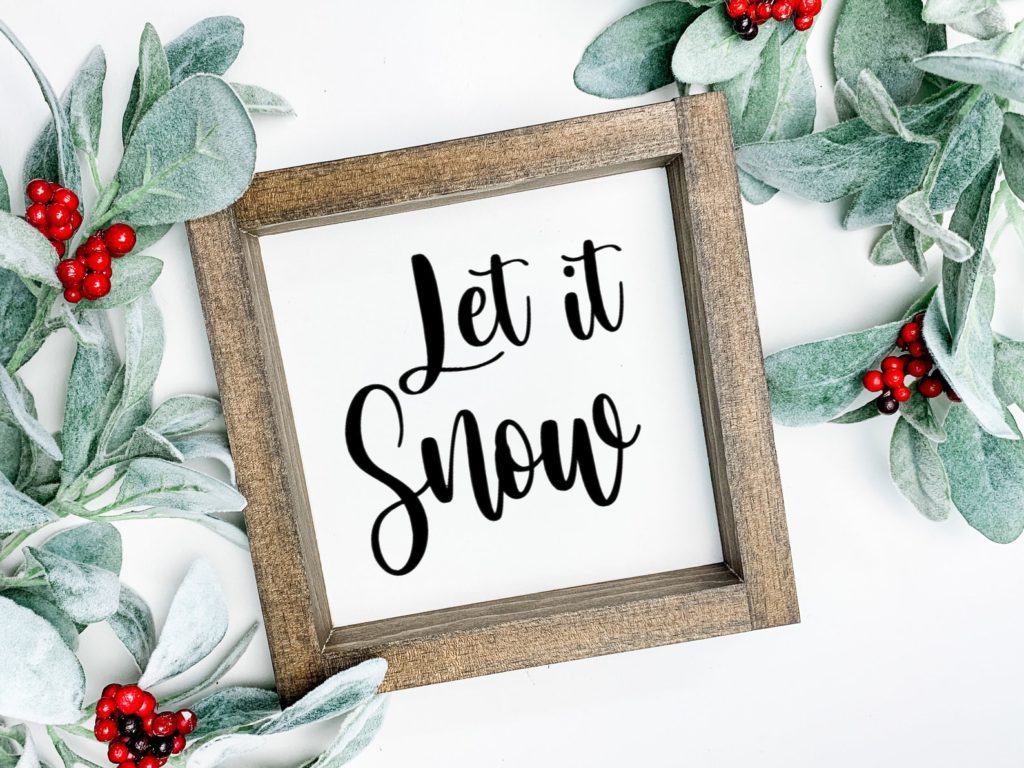 Freestanding Stars 
Your Handcrafted Shelf will look winter ready with these freestanding wooden stars atop them. Available in two sizes and featuring a gold edge for a cosy Nordic Christmas vibe.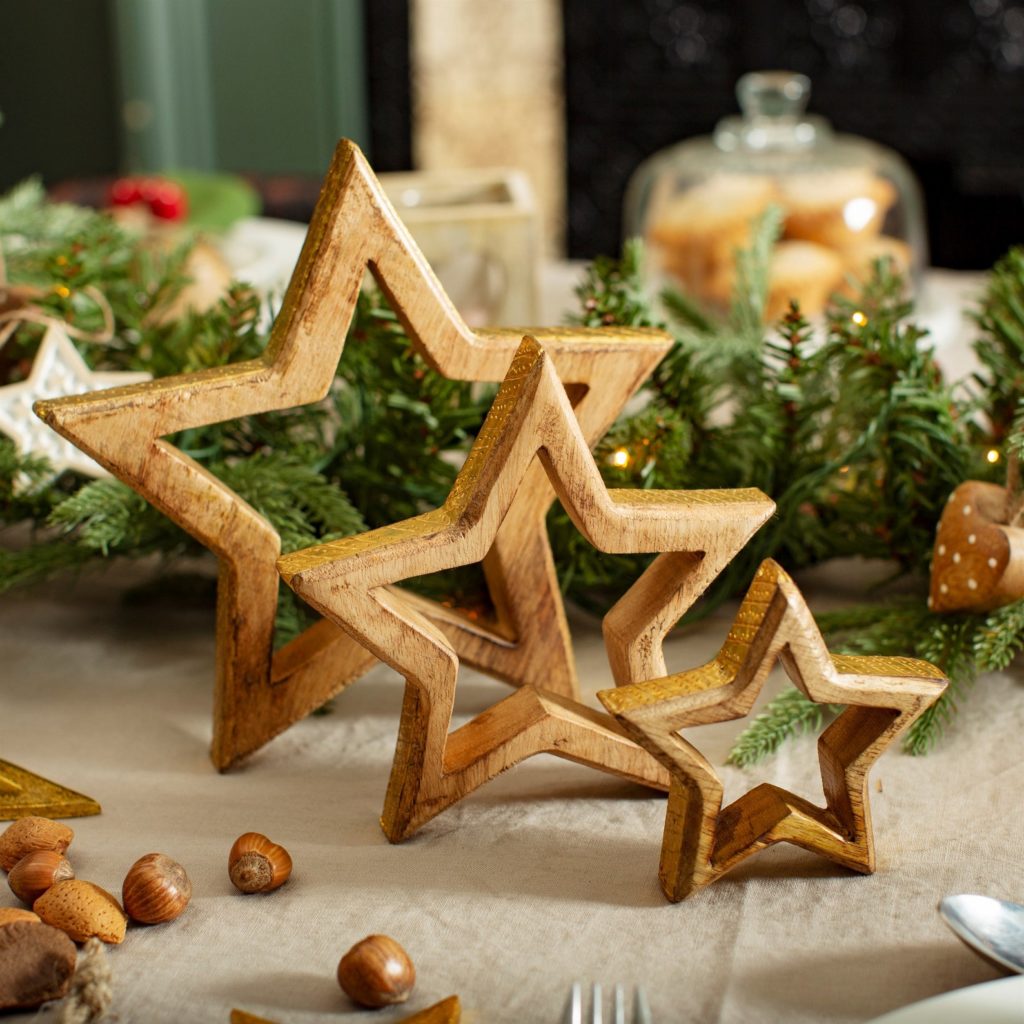 Reindeer Family 
Display reindeer versions of your family with these cute wooden freestanding customisable reindeers. Each wooden reindeer can be customised with your family member's name, making them a great lifelong household decoration which can also double up as a place setting for the Christmas meal.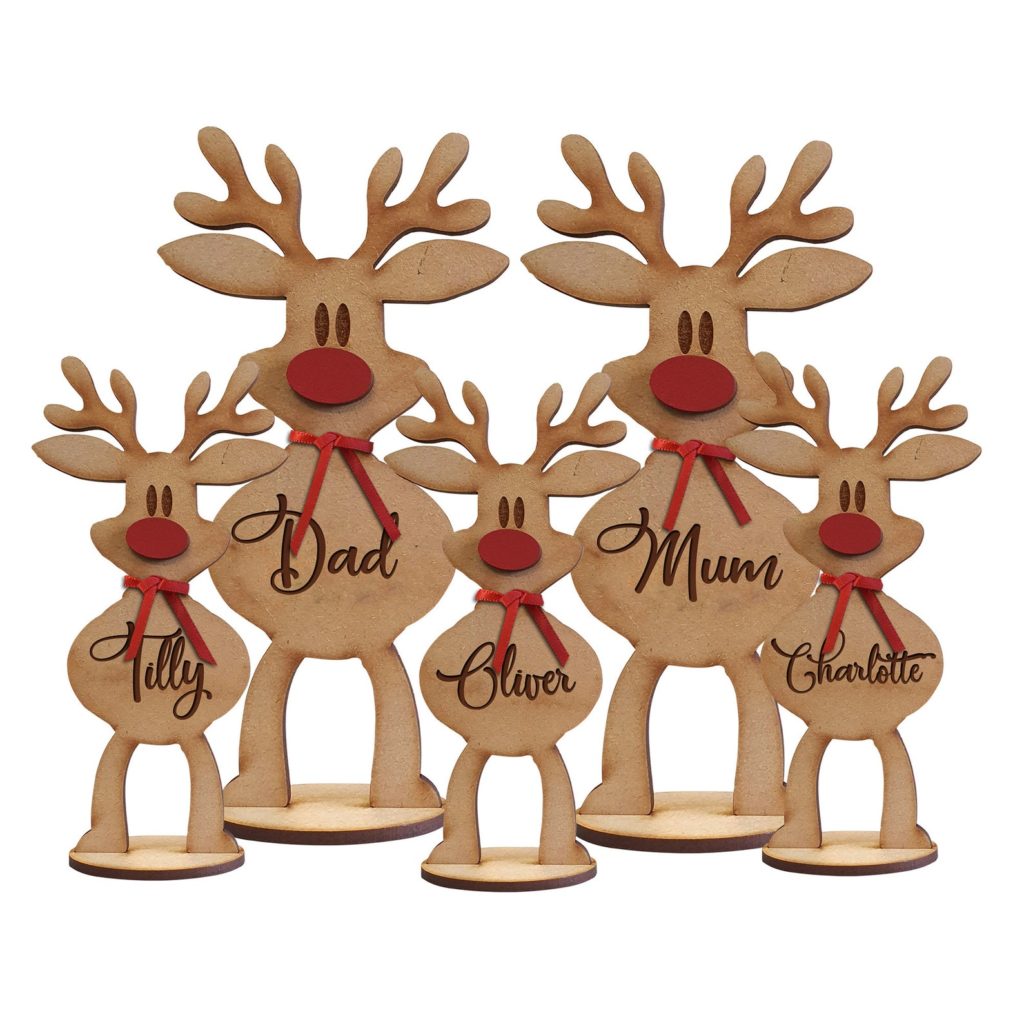 Gnome Family
This adorable MDF wood gnome family would look beautiful on a shelf, either as they are or painted in the festive colours of your choosing. These Nordic style gnomes have become popular over the last year, with many variations available online.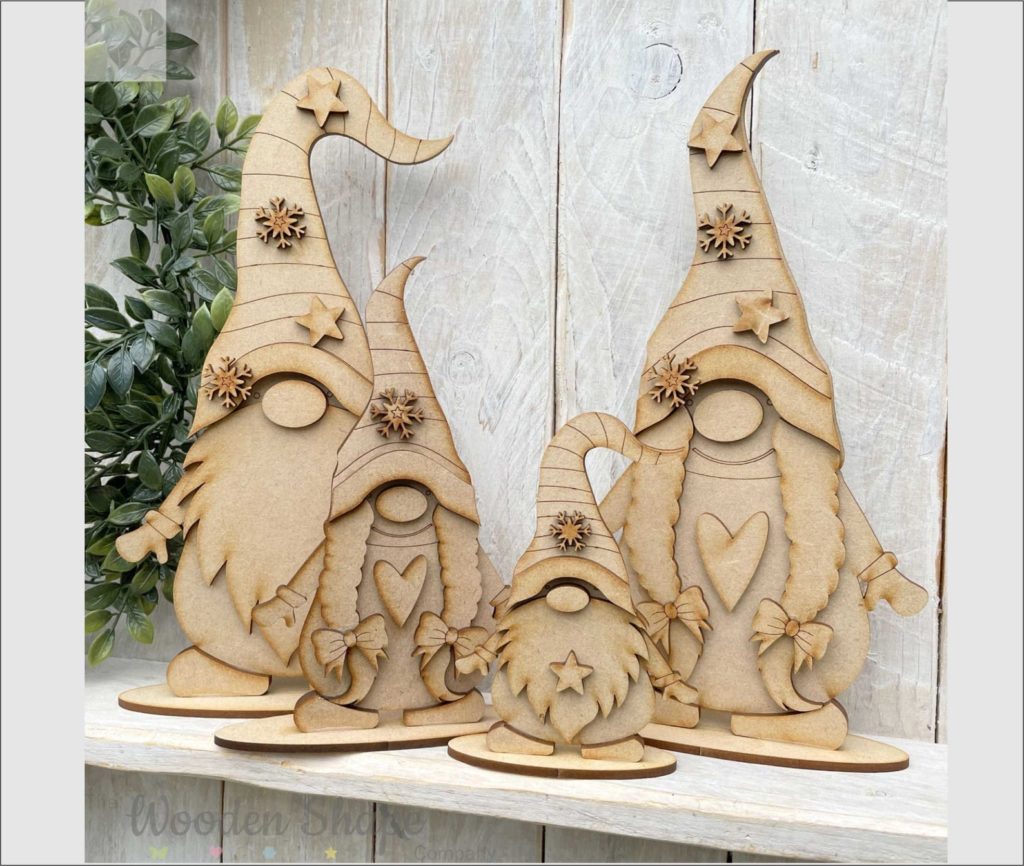 DIY Decoration Ideas
Sometimes getting into the Christmas spirit doesn't come easy, a good way to get yourself into the festive mood is to partake in some Christmas arts and crafts. Making your own festive decorations is a great way to do that, whether you're foraging twigs and leaves to make a wreath or salvaging wooden palettes to create large outdoor displays. 
Snowman Plank Family
Pinterest is full of crafty ideas that can be created using just paint and a plank of wood. Wood planks can often be salvaged from builder's yards or dumps and repurposed to make lasting Christmas decorations. This snowman plank family can be made with the whole family, each decorating a plank to represent themselves. Blank wooden blocks can even be ordered online for use in craft projects such as this one.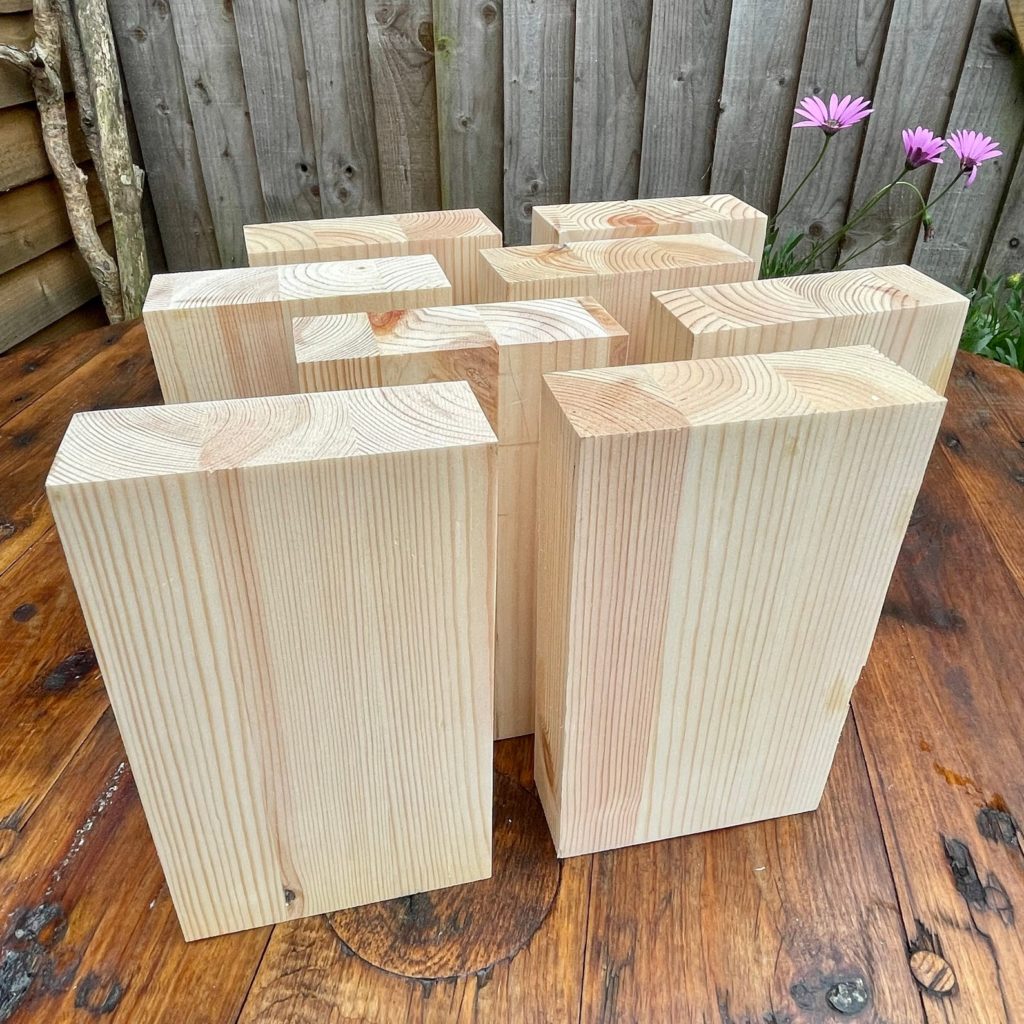 Christmas Crate Tree
This simple design is easy to make, and can create a chic and rustic look in your home or garden. This crate tree is made by upcycling empty apple crates and affixing them to each other in the shape of a traditional Christmas tree. Each crate can be decorated with ornaments or filled with presents.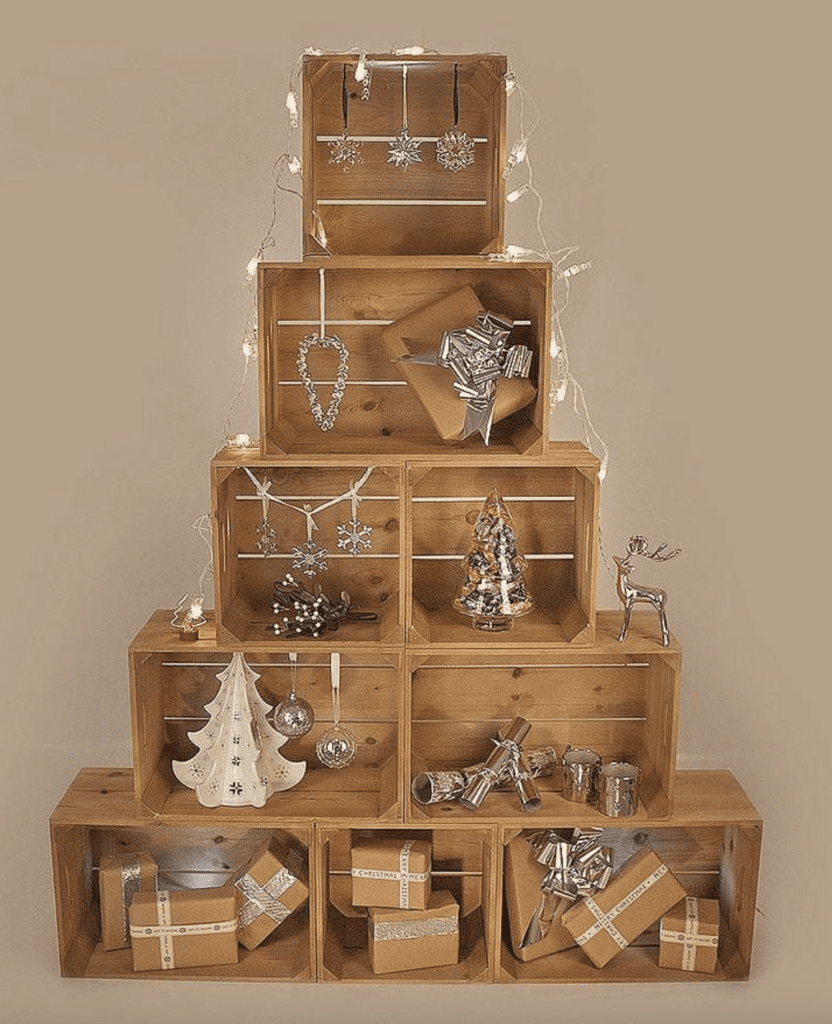 Palette Christmas Tree 
upcycling wooden pallets into Christmas decorations is easy to do, and the ideas are plentiful. Pallets can be cut into the shape of a tree and displayed outdoors, to create a garden winter wonderland.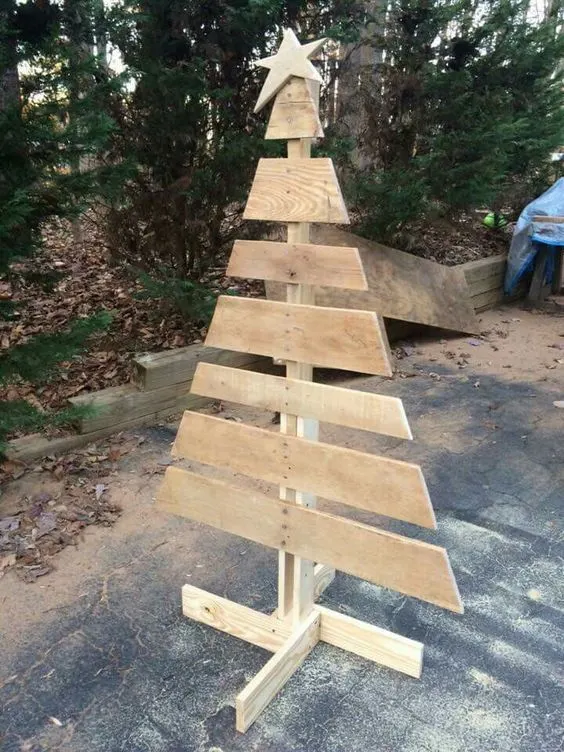 Simple Plasterboard Trees
Cut a tall isosceles triangle out of plywood and paint it green, et voila! Simple, easy and fun for the whole family.
Wood Slice Wreath
Buy pre-cut wood slices and use them to create a rustic wooden wreath for the front door. Strong glue can be used to create this look, with holly and cinnamon for embellishments.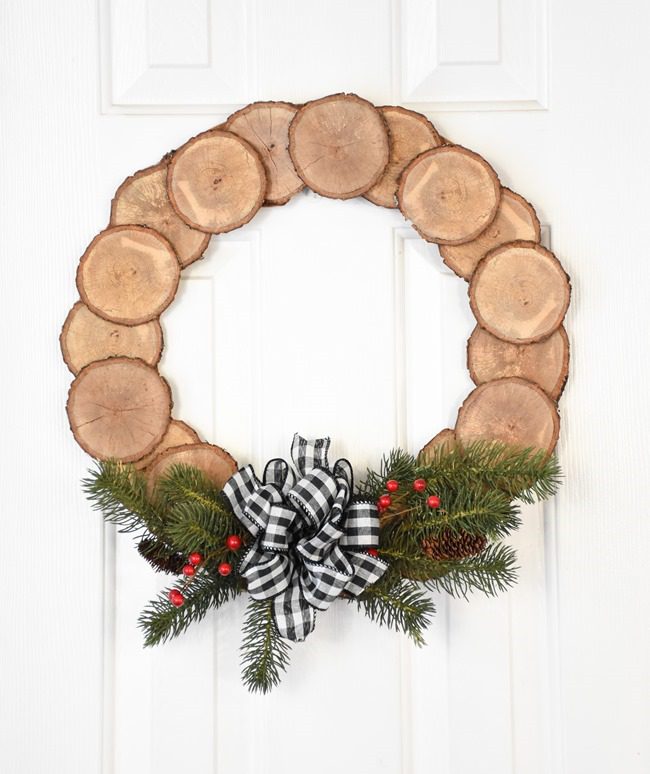 Vintage Sled
Create your own vintage sled for a Christmas garden display. The sled linked here is made out of upcycled pallet wood, but the same idea can be applied to other recycled wood.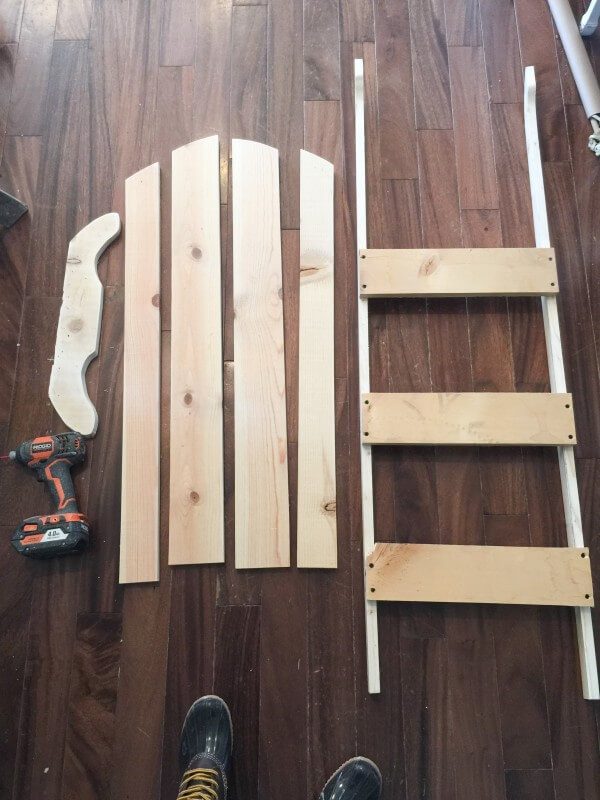 Laser Cut Craft Kit
There are lots of blank craft kits online, like this wooden MDF Christmas tree which you can paint or decorate with decoupage before assembling. Projects like this one allow you to have completely unique Christmas decorations in your home, as nobody will decorate their craft kit in the same way that you will.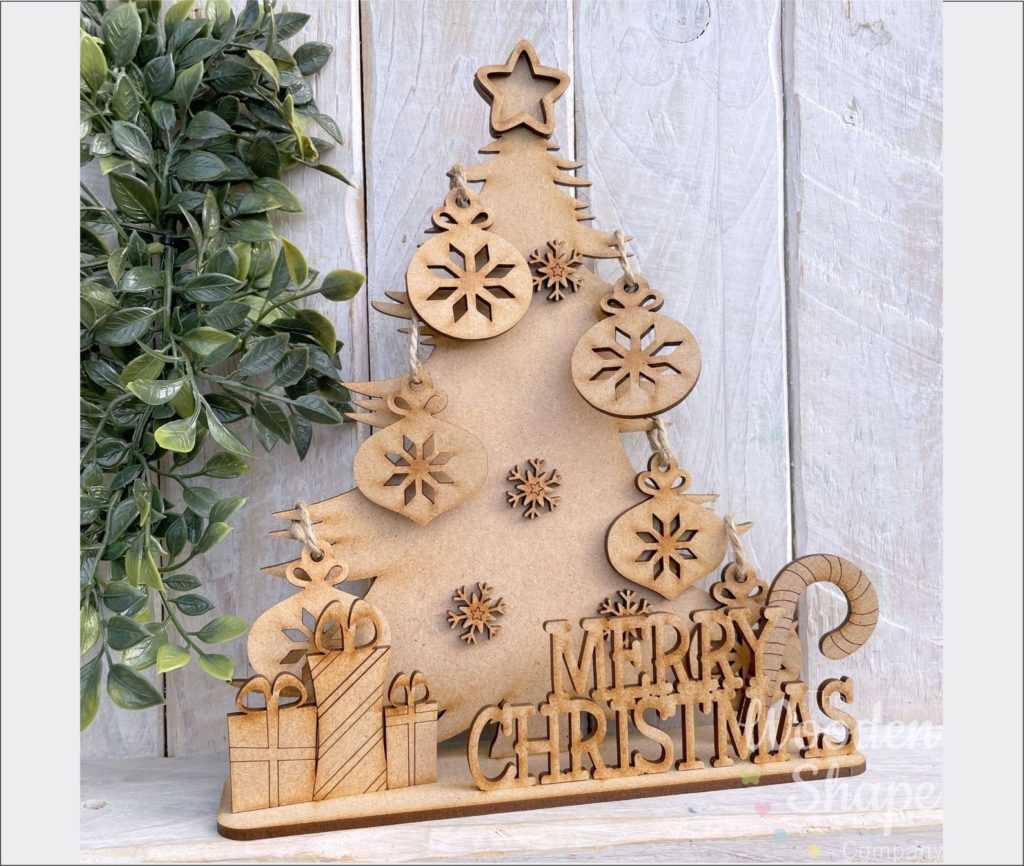 Attend a Workshop
This time of year lots of arts and crafts workshops are available for individuals or groups to attend and learn a new skill. Businesses like Hobbycraft run workshops in which they supply the materials needed to create a festive decoration, such as a wreath, wooden advent calendar, or Christmas cracker. You may also find that your local florist is available for wreath making classes.
However you choose to decorate your home, we hope you have a wonderful festive season. Which wooden decoration idea was your favourite? Let us know in the comments.