Interior Design Floating Shelf Hacks for Your Home
Floating shelves are all the rage at the moment because of their stylish versatility. They have an ability to transform messy, cluttered rooms into Instagrammable havens full of personality. Install them with hidden brackets to utilise the most underused walls to the max. Boost your home's storage capacity with floating shelves. 
Since floating shelves are so visually understated, they offer you the chance to express who you are, and to make the home feel like it is really yours. Display artwork, books, tools, pretty shells: The choice is yours. Use your floating shelves to create any vibe you like in your house. 
How to Install 
We have cohesive instructions on installing floating shelves included with your purchase. We also provide a floating shelf concealed bracket, allowing you to easily hang your new floating shelf on any wall: Whether it is plasterboard or brick. 
How to Jazz up Your Home 
Part of the versatility in floating shelves is the way you can position them. They take up hardly any space, meaning you can stack them, put them at any height, and use them to fill up otherwise empty spaces. 
This means you can get far more storage capacity from a few floating shelves than an entire shelving unit! The rest of this article will give you ideas for shelving ideas in different rooms in your house. 
The Kitchen
Hygiene and cleanliness in the kitchen is very important. It is also the room that lots of us use most heavily. Do you find yourself scrabbling for the spices, and losing your frying pans? Maybe it's time you went for the more open layout, offered by a floating shelf situation.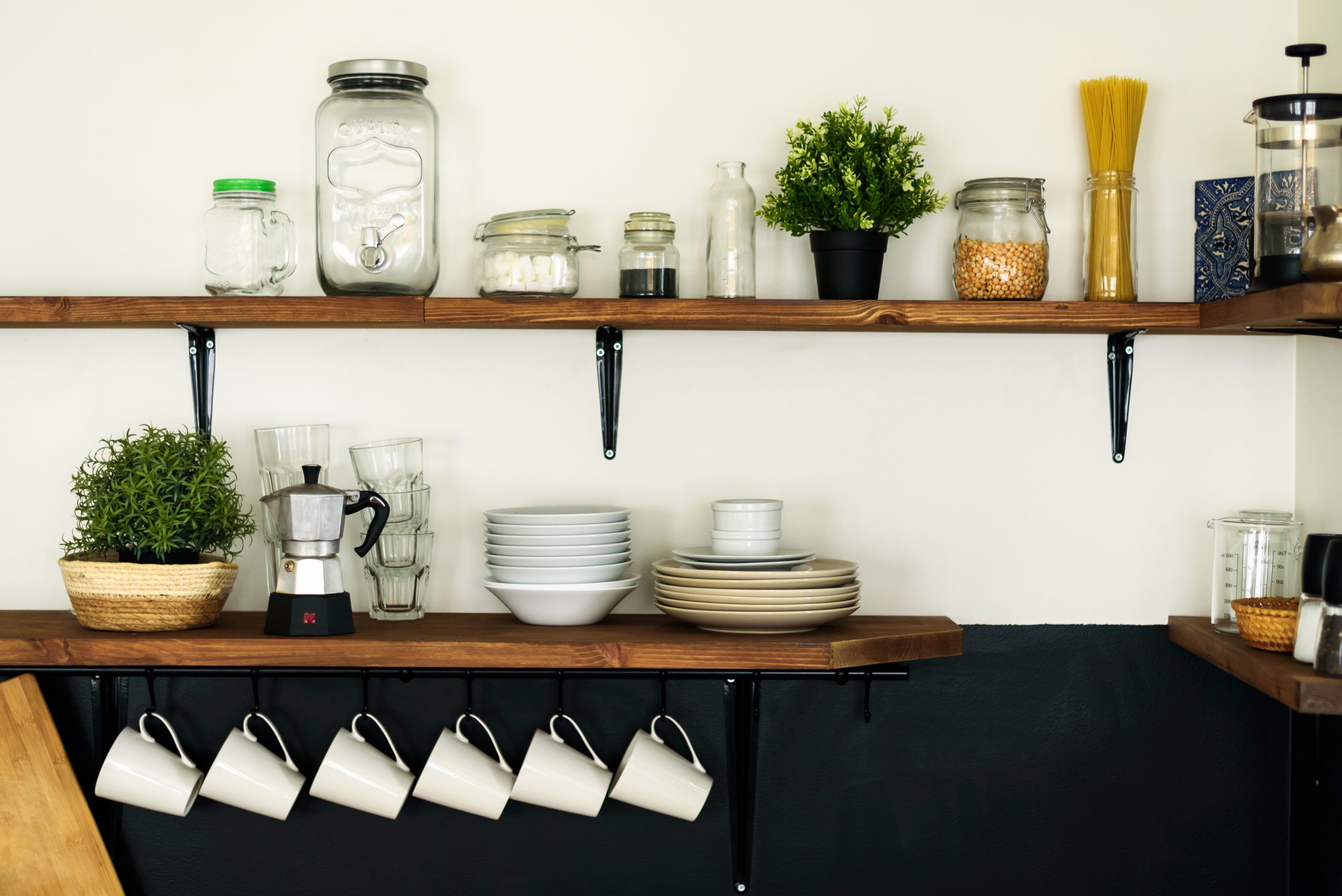 Floating shelves are far superior to cupboards. Not only can you see everything clearly in front of you, but they are easier to keep clean; It is also easier to put things back on them and they take up far less space. 
Put things like spices and sauces on one side of the lower shelf, and bowls and mugs on the other. On the higher shelf, you may wish to put appliances such as a blender, popcorn maker, or a Kenwood. 
Put floating shelves above your counters for the stuff you use most frequently. Have a higher one for the items you use less frequently above it. You should even consider putting a floating shelf above your kitchen window to maximise how you are using the space provided. 
It will make a world of difference to your kitchen. You will find the space feels a lot more open, airy and tidy. 
The Living Room 
The living room should be a welcoming, cosy space where you feel proud to take your guests. The choice is yours whether you want it to be a shag pile rug with a roaring fireplace, or a pristine, stylish, modern space: It simply depends on your character.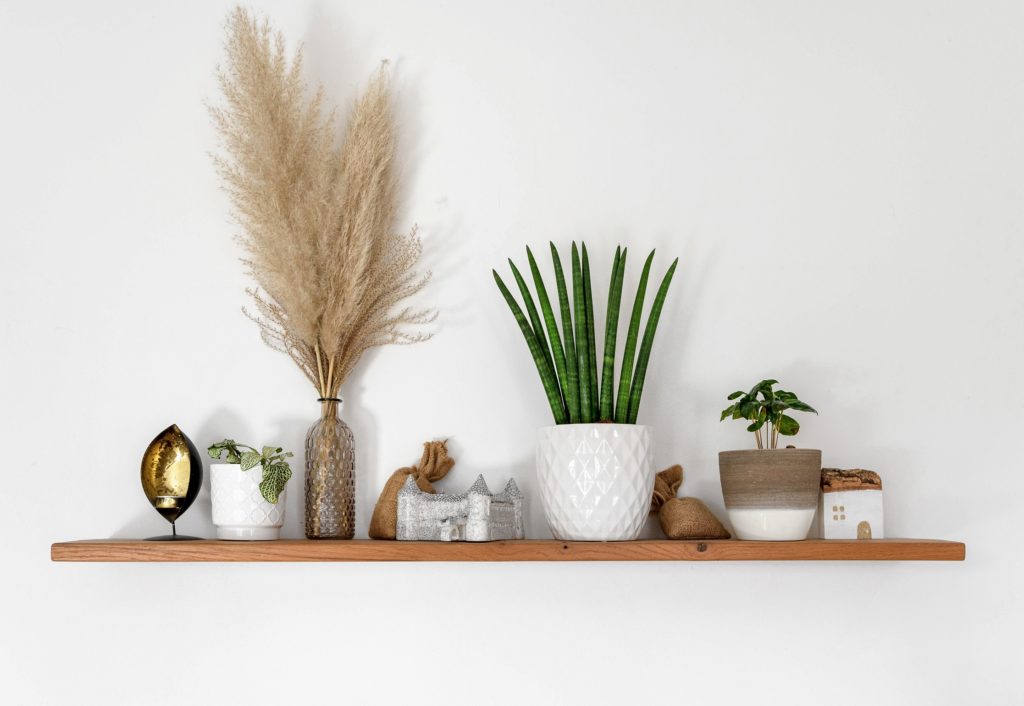 If you find your coffee table consistently gets overrun with bits and bobs, and your mantel piece is about ready to collapse under the weight of all your trinkets, install some decorative floating shelves. These can go in spaces other storage units would never be able to fit in. 
Make use of recesses, nooks and crannies to create anything from bookcases to plant towers. It will leave your surfaces free for board games and coffee, and keep the living room feeling neat and tidy. 
The Study 
With so many of us having worked from home over the last 2 years, a good work space has been more important than ever. Did you know you can use a floating shelf as a desk? With their length and sturdiness, they are useful for giving you tonnes of space for your laptop, and any other items you need while you are working. 
This is especially useful for music producers, graphic designers, architects – basically any profession requiring the use of multimedia equipment. The great thing about this idea is you can stack more floating shelves above your desk to easily store and access ring binders, pens, printers in a way that is organised, easy to use and attractive.  
The Bathroom
Most of us have rather small bathrooms. It's not such a problem if you're just rushing in and showering once a day, but keeping them clean can become a living nightmare, especially if you don't have a whole lot of ventilation. 
Sponges, toothbrushes, medicine, hair care, skin care, cleaning fluids… It's a lot to keep in what is often the smallest room in the house! Space-saving floating shelves give you a place to keep your small pharmacy's worth of self-care items, that isn't the shower floor, or the edge of the bath.
You can even utilise your bathroom's corners to stack floating shelves, and really take advantage of every inch in the room. 
Say goodbye to bathroom clutter, and hello to organised bottles. Just make sure you don't grab the foot cream instead of the toothpaste. 
Floating shelves in the hallway 
Hallways can sometimes feel like something of a wasted space. Empty of furniture, or anything of any particular use, they can be overlooked. However, hallways are actually great opportunities for, you guessed it, extra storage! 
Cover your hallway's floating shelf in plants, pictures and trinkets to create a beautiful effect. The only problem is you might come to love your hallway so much that you never get to the room you were aiming for in the first place! 
Get Creative 
This article has only given you a small number of ideas for using floating shelves in your home. You can put them in any room you like and use them however you wish! What is the most creative way you have used a floating shelf? 
Bedside table? Window ledge? Let us know in the comments, and send us your photos on instagram.