Description
Floating Shelves, Made From Natural Solid Oak.
Designed for Plasterboard Walls.
A traditional, natural product, with a fun modern twist – these shelves appear to float!
We love working with Solid Oak as it is an extremely strong, durable wood. Choosing to order from Handcrafted Shelves is choosing to add real,  natural beauty to your home. Each piece we create is completely unique to you and your home. Your new shelf will be a slice of nature – with unique grain patterns, colours, cracks and knots too.
You can purchase our Solid Oak Floating Shelves in a depth of 6″ or 8", the thickness of the wood will be around 32mm (please allow for +/- 5mm due to being handcrafted). The length options run from as short as 1ft up to 7ft, but if you have a specific measurement that you're looking for please do not hesitate to get in touch. Our shelves are handmade to order, which means we are able to make bespoke pieces to match your specific requirements.
As well as your chosen shelf being made to your exact size specifications we will also colour it with your chosen premium wood stain too. Colour options are added as standard, and come at no extra cost. Using a wood stain helps to protect and enhance your piece's natural beauty, and it can also be a great way to match your shelf to your home's aesthetic style. Whether you prefer a clean white, bold black or earthy walnut, we have the stain for you. Once your shelf has been finished with your chosen premium wood stain, we will then also further enhance your timber with a coat of wax polish.
These shelves have been designed to perfectly fit to plasterboard walls. Find our comprehensive fitting instructions here.
You should order from Handcrafted Shelves, because…
We supply concealed shelf supports and comprehensive instructions with your order.
We kiln dry our oak, resulting in a sturdy and resilient shelf.
We always source our oak from trusted sawmills.
We only use robust 1.5 inch thick oak.
We always aim to dispatch your order within 5 working days.
We are 5 Star Rated, with testimonials that speak volumes.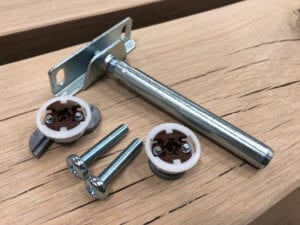 See our full fitting instructions here.
Please note: oak is a natural product, therefore every piece will vary in appearance. The grain, colour, cracks and knots are what make our natural product unique. Our displayed colour samples are only guides, colours may appear slightly different due to the natural colours of the wood, the lighting and the type of screen you are looking at them on too. Also, air dried timber can develop further cracks over time, and the shape may alter through usage too. Dimensions stated are approximate only. Post machining, our dimensions are accurate to 1/2″. We will not accept any of the above as defects.